Cornellians all over the world paused for an hour on March 17 as a memorial event for President Elizabeth Garrett was live streamed from Bailey Hall on the Ithaca campus; 1,600 viewers tuned in. Drawn together by the gravity of the occasion, alumni in New York City and Washington, DC, gathered together to watch the live stream, to celebrate their memories of Garrett, and to mourn her passing.
More than 30 people gathered at the University Club of Washington, DC, to watch the live-streamed memorial together.
"It was like we were in Bailey Hall," said Jason Brett '97. "Most people had red on. It was very quiet."
Those who attended this event drew strength from watching the memorial together, said Nicole DelToro '91, a member of the Cornell University Board of Trustees. "It's one thing to watch something at your desk, and it's another to be in a room together with other Cornellians," she said. "I'm so glad I was there."
The mood of the gathering was somber but hopeful, said DelToro, who shared a few words before the live stream. DelToro had met with Garrett on several occasions and wanted, through her words, to convey Garrett's approachability, inclusivity, and energy to the alumni in Washington, DC, who had felt "an immediate connection" with Garrett when she visited on November 10, 2015, the first stop on her planned tour of cities in the US and overseas.
Garrett's November visit energized the close-knit, active Cornell community in Washington, DC, said Cornell Club of Washington president Grace Jean '00.
"The Cornell Club of Washington was one of the few clubs to have had the opportunity to welcome Cornell's new president and hear her remarks," Jean wrote in an email to club members five days after Garrett's death. "We remember what a joyous occasion it was to meet Beth in November; her untimely passing is keenly felt here in town."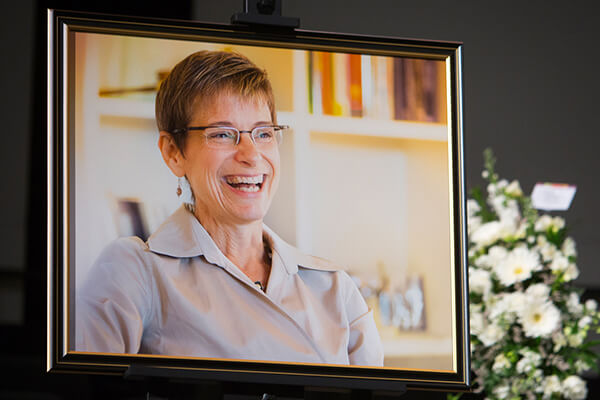 About 20 people gathered at the Cornell Club of New York to watch the memorial event, said Jessica Raha '99, associate vice president of Cornell's Division of Alumni Affairs and Development, Northeast Corridor.
"I'm sure there were countless others at Cornell Tech and Weill watching, as well," said Kevin Milian '15, who attended the gathering at the Cornell Club. He said many of his friends who could not attend watched at work or home. Prior to joining the live stream, nearly 200 had gathered for a memorial ceremony at Weill Cornell Medicine's Uris Auditorium.
Milian, currently a graduate student in journalism at Columbia University, was in a lecture when he heard on March 7 about Garrett's death. He reached out immediately on social media to his Cornell network and, later that day, also watched the live stream of the moment of silence and chimes concert on campus: "It was a way to be with my friends and former classmates without being there."
Like many Cornellians, Milian has a special memory of Garrett: During Charter Day weekend in April 2015, he bumped into her in the Statler Hotel lobby. After asking her for a selfie, which she enthusiastically granted him, he showed her the way to Bailey Hall, where they were both headed for a lecture by Bill Nye '77, and they chatted while they walked.
"We got to know each other," he said. "She asked me about myself. It was a star-struck moment, a little like meeting a celebrity."
He attended the March 17 Cornell Club event to talk through the shock of this loss with friends. Those gathered responded to the live stream with "waves of tears." All of the attendees rose to their feet when the Cornell University Glee Club and Chorus sang the alma mater. Milian, a Big Red Band alumnus, sang along—when he could.
"It was a great moment for the Cornell family," he said. "It showed me the collective Cornell identity we have."
Since the death of President Garrett, said Milian, Cornell social media has been full of people's memories of her. He said that grief over her passing has made the New York City Cornell network even tighter; members of the Washington, DC, community feel the same.
"I think it's made us even closer and stronger," said Brett. "You could tell in the room the importance of going on for Cornell."
It was like we were in Bailey Hall. Most people had red on. It was very quiet.
—Jason Brett '97
We remember what a joyous occasion it was to meet Beth in November; her untimely passing is keenly felt here in town.
—Grace Jean '00, president of the Cornell Club of Washington