Cornell alumni, parents, students, and friends supported 17 projects during a month-long crowdfunding campaign that launched November 1 and concluded a day after Giving Tuesday, November 29. In all, 1,472 individual gifts raised a total of $198,335. Ten of the projects reached their goals, with several surpassing their targets.
For students, staff, and faculty, Cornell's Small Projects, Big Impact crowdfunding campaign has proven to be a powerful way of funding specific efforts with the help of people who recognize their importance.
"We are thankful to have such wonderful, caring alumni of the orchestras who have heard about and donated to our crowdfunding campaign," said Eunu Song '17, a violinist and the alumni relations chair for the Cornell Orchestras. "We are also grateful for the orchestras' amazing friends, families, and local audience supporters."
The project raised $17,910 from 79 gifts to fund a spring tour of Argentina by the Cornell Symphony Orchestra and the Cornell Chamber Orchestra, far exceeding the $12,500 goal.
Charles Aquadro, the Charles A. Alexander Professor of Biological Sciences in the Department of Molecular Biology and Genetics, met his $8,500 goal to purchase genetic-testing kits for his Personal Genomics and Medicine course that's been very popular with students outside the major. What started as a small seminar in 2012 has ballooned to a 130-student course that has a waiting list for spring 2017.
"I have since the outset tried to find funds to purchase the kits to do the ancestry testing, which really resonated with the students," he said.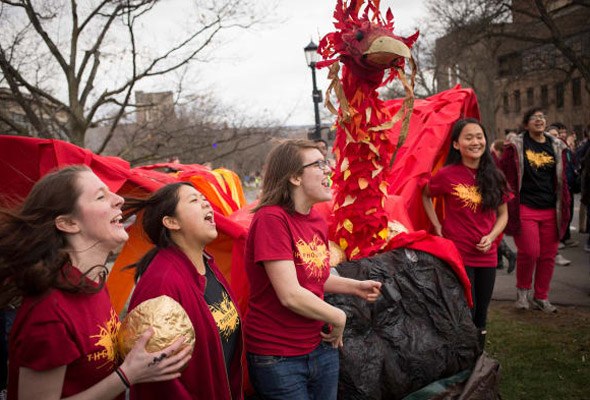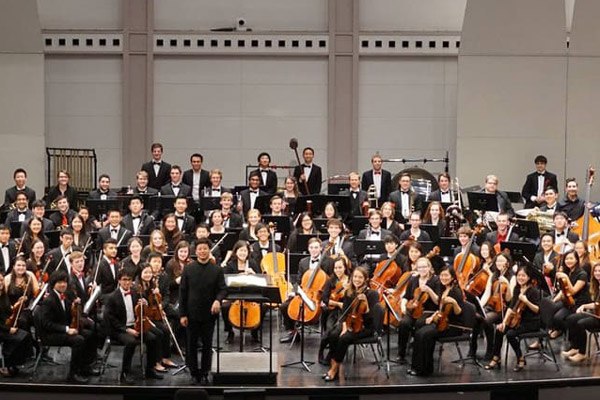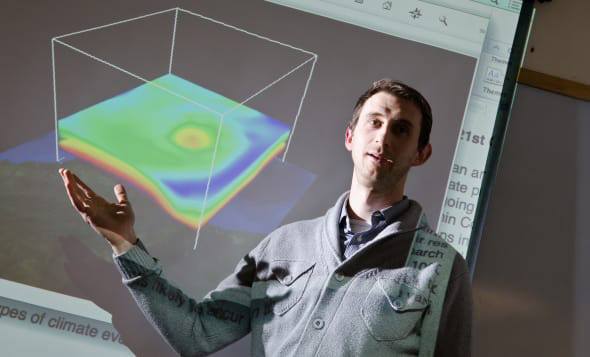 Cornell Cinema also met its $10,000 goal to purchase a Dolby 3D system and 300 pairs of 3D glasses for the Willard Straight Theatre, enhancing a capital equipment grant from the New York State Council on the Arts.
"We thought this would provide a pretty compelling reason for potential donors to help with the needed matching funds," said Mary Fessenden, director of Cornell Cinema. "We have a great network of enthusiastic former Cornell Cinema student employees and board members. We were able to reach out to them via social media and individual e-mails, and they really came through."
Even those projects that didn't meet their goals gathered significant resources from donors who care.
"The most rewarding aspect of the campaign has been sharing our story," said Fred Kauber '19, co-leader of The Wardrobe, a project that aims—starting in spring 2017—to give students of all economic backgrounds access to professional apparel for job interviews and corporate events. The Wardrobe raised $9,495 toward its $15,000 goal.
"Raising money is obviously important, but we also like the crowdfunding model because it's very sharable and informs a lot of people about our project," Kauber added. The Wardrobe had one of the highest donor counts among the crowdfunding projects, with 133 individual gifts.
Cornell launched its first crowdfunding campaign with seven projects in 2014. Since then, 63 projects have received crowdfunding support, yielding nearly $600,000 in gifts to Cornell.
"We've been slowly growing this giving opportunity," said Ashley Budd, director of digital marketing for Cornell's Division of Alumni Affairs and Development. "It's a great way to get Cornellians close to the beneficiaries they support."
Know more about Small Projects, Big Impact.
Explore other ways to give to Cornell.