More than 1,300 Cornellians have responded to an October 5 email calling on alumni veterans to identify themselves and share ideas about how Cornell can connect with this diverse population of alumni. The survey is still open.
"I'm glad to see a good, robust response," said Rick Burgess, vice president of infrastructure, properties, and planning, who sent the email to all alumni. Some who responded are military veterans, he said; others are not but express support for the project.
Honoring the lost
A veteran himself, serving for 30 years in the U.S. Navy, Burgess is also leading an effort to update the war memorial in Anabel Taylor Hall to include Cornellians killed in the line of duty during the Gulf Wars and conflicts in Iraq and Afghanistan. His email requested information about fallen alumni. He said Cornell has a tradition of exceptional service to the United States armed forces that continues today.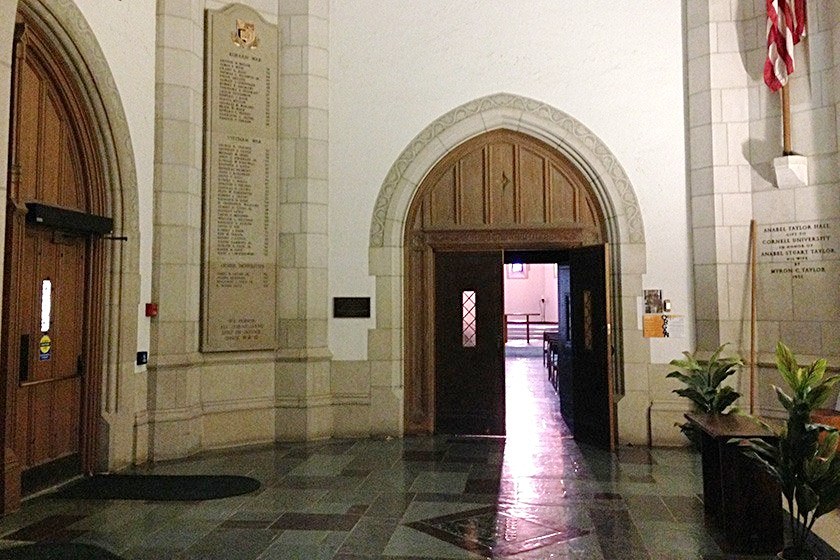 "You look back at the history of Cornell and there is a very long, very strong tradition of service to our country in the armed forces," said Burgess. "You look at the numbers Cornell sent [to war] in World War I. You look at the number of casualties in World War II. The kind of people Cornell has attracted to be a part of this community are people who care about their community, they care about their country, and they serve. I think it's important to recognize that."
During World War I, Cornell commissioned more than 5,000 officers, sent 9,000 total to serve in the armed forces and counted 264 casualties. More than 20,000 Cornell students, faculty, and alumni served in the armed forces during World War II. The memorial in the rotunda of Anabel Taylor Hall, dedicated in 1953, records the names of over 500 Cornell casualties in Europe and the Pacific.
Inspired by the past

Curtis Bartosik '89 participated in the Army Reserve Officers' Training Corps (ROTC) at Cornell and served as an artillery officer in the National Guard and Reserves. He completed the survey and also sent a photo of the stone marking the grave of a famous Cornellian, Willard D. Straight, Class of 1901.
"I took it last year when I was at the Suresnes American Cemetery outside Paris for the November 11 ceremony here," Bartosik wrote in an email from Paris, where he makes his home. "I stumbled across it and was bowled over," he said.
Straight joined the Army in 1917, when the United States entered World War I, serving stateside and then in France as a major. Just weeks after the war ended with the Nov. 11, 1918 armistice, Straight contracted pneumonia, a complication of the epidemic Spanish influenza. He died on Dec. 1, 1918 in Paris, where he'd been preparing for the arrival of the American mission to the Paris Peace Conference.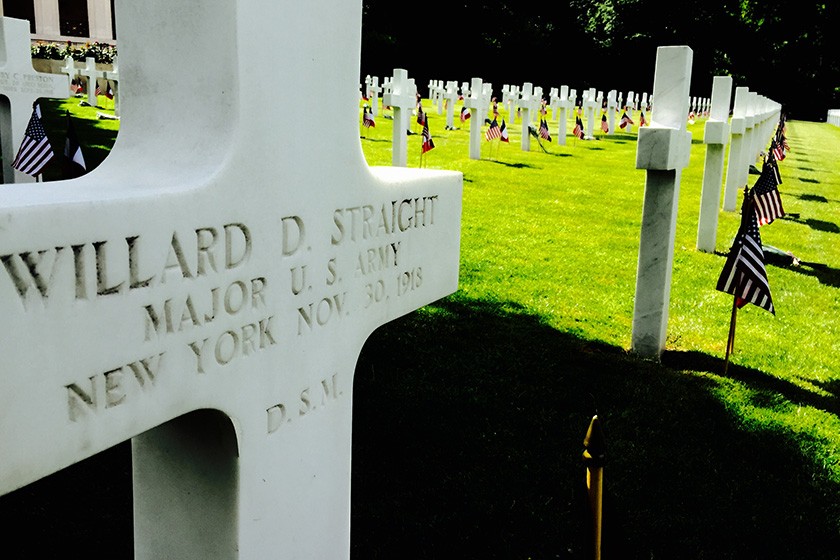 Straight left instructions for his wife to use his money to make Cornell "a more human place." The resulting building is Willard Straight Hall, now the hub of campus activities.
"I used the Straight for four years," said Bartosik, who is the president of the Cornell Club of France and served on the Cornell University Council, "but only learned about the person behind the building when I discovered his grave. I was stunned to find out that Willard Straight was a World War I veteran."
An active veteran community
Matt Carcella, director of Diversity Alumni Programs, said the positive response to the survey is a major step toward creating a more active alumni veteran community. He encourages alumni veterans to respond to the survey if they haven't yet.
"We want to do more to engage with alumni veterans," said Carcella.
The effort to engage with alumni veterans echoes the university's recent effort to support student veterans. In 2017, Provost Michael I. Kotlikoff announced an ambitious goal to quadruple the number of undergraduate military veterans at Cornell by 2020.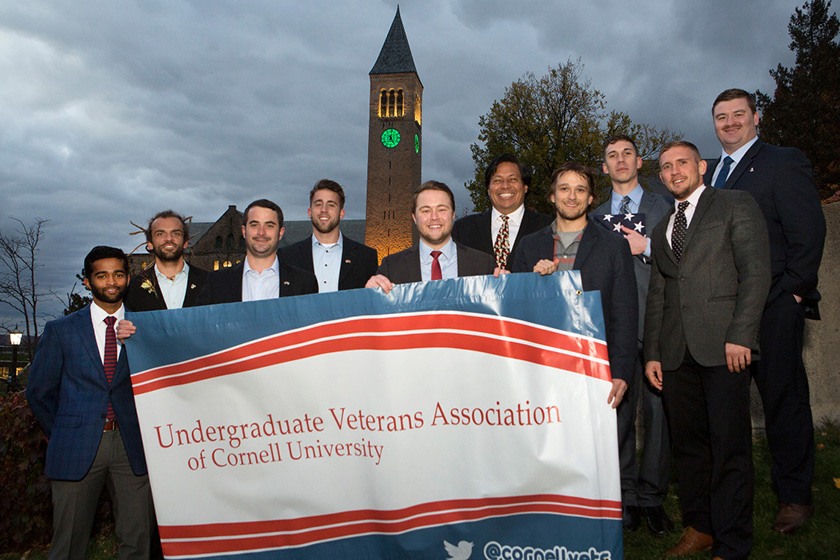 Gifts from alumni help in this effort. In March 2017, a gift from the Adelphic Cornell Educational Fund, associated with Alpha Delta Phi fraternity, committed $200,000 to create a veterans advocate position on campus. This advocate, Barbara Thompson, joined the dean of students office in fall 2017 and helps student veterans transition from military to college life and to stay organized academically. In April 2017, Peter Nolan '80, MBA '82, and his wife, Stephanie Nolan '84 endowed a scholarship fund for student veterans at the Samuel Curtis Johnson Graduate School of Management in the Cornell SC Johnson College of Business.
A website dedicated to Cornell's military community—students, faculty, staff, and alumni—posts information about programs, events, and services.
Events on campus this week recognize Veterans Day and the 100th anniversary of the conclusion of World War I:
Nov. 10, 4:30-7 p.m. in Risley Hall: Armistice Day Centennial Celebration, open to the public
Nov. 11, 11 a.m. at the Baker Flagpole outside the World War I Memorial, West Campus, open to the public.
On November 11, McGraw Tower will glow with a green light from about 6:30 p.m. until dawn the next morning, joining "Greenlight A Vet," a nation-wide effort to show support and appreciation for military veterans. The Cornell Undergraduate Veterans Association also distribute green light bulbs to fraternity and sorority houses.