Crab sells by the bushel in summertime Maryland—and, on June 26, Bill Eaton '61 had 23 bushels of the region's biggest crabs delivered to his farm on the eastern shore for the 13th Annual Mid-Atlantic Crab Feast.
"Crab is a Maryland staple," he said.
Each summer, Eaton hosts a Crab Feast with his wife, Phyllis, a Marshall University alumna, for Cornell alumni, parents, and friends. The couple started hosting annual crab cookouts at their farm in the early 2000s for their respective alma maters. For a few years, the Marshall University cookout attracted a lot more guests, but in 2004, Cornell's Division of Alumni Affairs and Development got behind the Cornell cookout, and the event started to draw hundreds.
"We feel proud to have one of the biggest events outside of what takes place on campus," said Molly Berger '13, outgoing president of the Cornell Club of Maryland, who planned the kids' activities for the event.
This year, more than 440 guests came, some from as far away as New York and Virginia. Alumni ranged from the Class of '52 to the Class of '19. The event was sponsored by the Cornell Club of Maryland, the Cornell Club of Washington, DC, the Cornell Hotel Society Washington, DC/Baltimore Chapter, and the Northeast corridor program of Cornell's Division of Alumni Affairs and Development.
"The 13th annual Crab Feast was a great success," said Claire Stack '15, an Alumni Affairs staff member who coordinated the event. "The weather was perfect—it was warm with a slight breeze and lots of shade so people stayed cool."
The menu featured "number one" crabs—those rated largest—and corn on the cob, which is traditionally steamed along with the crab. Burgers and hot dogs were grilled on site, and guests brought side dishes. Family and local friends of the Eatons' helped cook and serve.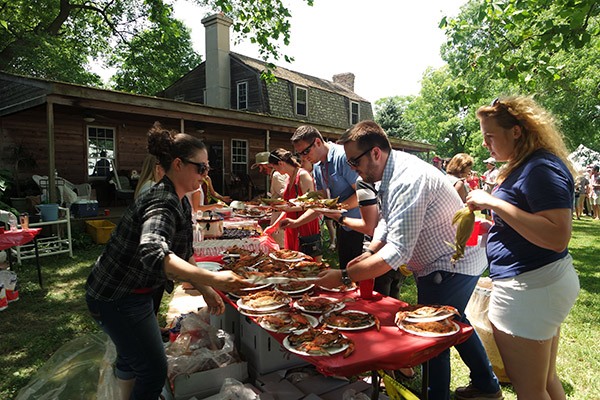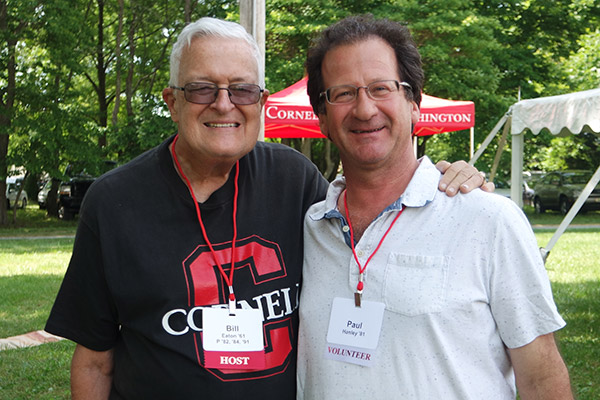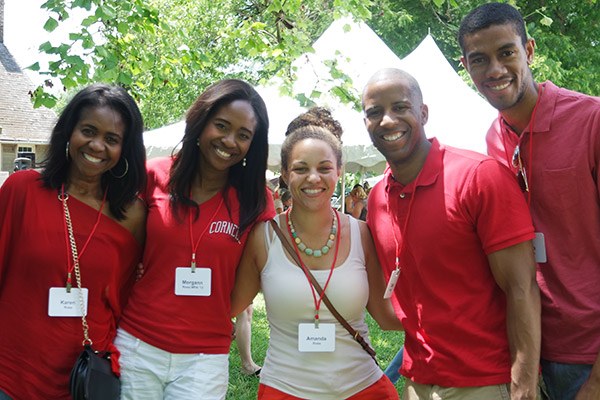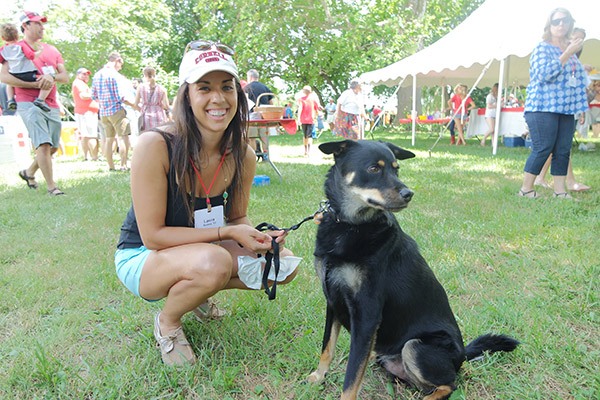 Guests enjoyed a variety of activities. Touchdown, Cornell's unofficial mascot, greeted guests, and a get-to-know-you bingo game encouraged everyone to mix and mingle. A bluegrass band played, but "with 400 people banging hammers on the crabs it was awfully hard to hear the band for a while," said Jeanne Sander '66, P '99, a member of the Crab Feast committee.
After folks ate, Sharon Marine, vice president for development at Cornell Tech, gave an update on the progress of the Roosevelt Island campus. Later, kids enjoyed a bounce house, a giant slide, and face painting.
Guests say this is the Cornell event of the year in the Mid-Atlantic region.
"Because it's on the eastern shore, this event attracts people who don't go to downtown Washington, DC, downtown Baltimore, or downtown Philadelphia," said Sander. "It attracts a different group of Cornellians."
She added that many people who attend big city events come to the Crab Feast, too.
The annual Crab Feast fosters Cornell spirit despite being hundreds of miles from Ithaca, said Stack.
"It allows Cornellians to reunite with classmates and meet new friends in a relaxed environment," she said. "Above all, the hospitality and generosity of the Eatons make Crab Feast an extraordinary event. Bill, Phyllis, and their family work for months to make this event happen."
Eaton said he and his wife love hosting such a big event. They are proud of Walnut Grove, their 140-acre farm on the water of the Chesapeake Bay.
"There's a whole series of trails on the property," said Eaton. Between 150 and 200 guests take tours of the trails at each cookout, he said, and they love to explore.
As the party wound down, guests spoke fondly of their time at the event, and many promised to return next year. Only half a bushel of crabs were leftover.
"I probably cut it a bit close," Eaton said.
Learn about events in your region.