They are more than 15,000 strong. They live and work all over the world. Some are young and new, and some are older and seasoned. Some dedicate a few, significant hours, while others devote decades, leaving a legacy. But, together, Cornell's ever-growing volunteers are one Big Red cause for celebration!
For the first-ever Cornell Volunteer Appreciation Week, from May 9 to 13, the university is cheering for the many ways alumni, parents, and friends strengthen Cornell and help students and faculty succeed across campuses and beyond.
Our volunteers are essential to every aspect of the university. The volunteer system at Cornell is deep, and it connects virtually every aspect of our university.
—Alan Mathios, the Rebecca Q. and James C. Morgan Dean of the College of Human Ecology.
Among their many contributions, he notes, volunteers:
give a personal face to Cornell through interviews with prospective and accepted students, a factor in increasing enrolment;
offer perspectives and information that keep the curriculum up-to-date and relevant for students;
connect the research enterprise to the private sector;
open their homes for regional events and gatherings; and
play a role in setting directions, such as shaping his college's mission statement.
"These are just a few ways that volunteers help us, and their amazing work makes a tremendous difference," he says, "whether through really important one-time opportunities or through long-term leadership commitments and lifelong engagement."
Mathios also applauds the impact of alumni who give a lecture on campus or mentor students: "When students see the work that previous generations have done and the success of our alumni and volunteers, it really inspires the students, and I get so enthused about how the success of the college can be fed right back to our current students."
Whether volunteers make their impact one-on-one or through organized groups, many Cornellians see their volunteer service as a rewarding way to express gratitude to Cornell, advance its goals, both large and small, and help new generations of students.
Cornell's secret weapon
Few Cornellians understand the difference that Cornellians make or the scope, breadth, and impact of the university's volunteers better than Diana Daniels '71, a lifelong member of the Cornell University Board of Trustees.
Daniels, who is a retired general counsel of the Washington Post Company, began volunteering for Cornell in the early 1990s, starting out as a member of the Cornell University Council and the President's Council of Cornell Women before taking on successive leadership roles on the Board of Trustees.
Engaged with Cornell for close to 20 transformative years, Daniels chaired the presidential search committee that successfully recruited David Skorton, Cornell's 12th president. Most recently, she spearheaded a trustee task force focused on improving the volunteer experience.
"The contributions that alumni volunteers make are truly meaningful and have real value to the university," she says. "Volunteers are the lifeblood of Cornell University in many ways. President Emeritus Frank Rhodes expressed it well when he said that volunteers are Cornell's 'secret weapon.' I think that because of their tremendous activism, engagement, and commitment, that's very true."
One Cornell volunteer who has made a big impression on Daniels is Supreme Court Justice Ruth Bader Ginsburg '54. In 1993, Daniels helped organize a brown bag lunch for alumni in and around the Washington, DC, featuring Ginsburg who had just been nominated to the Supreme Court at that time. To this day, Ginsburg has continued to make herself available to talk with Cornellians.
"To me, she epitomizes the Cornell volunteer who is willing to do anything despite the demands on her time," Daniels says. "This is the kind of work volunteers will do every day; it is so impressive how willingly they take the time out from their busy schedules to volunteer for Cornell."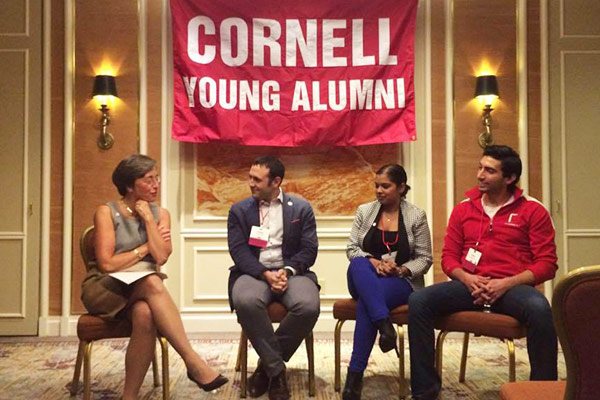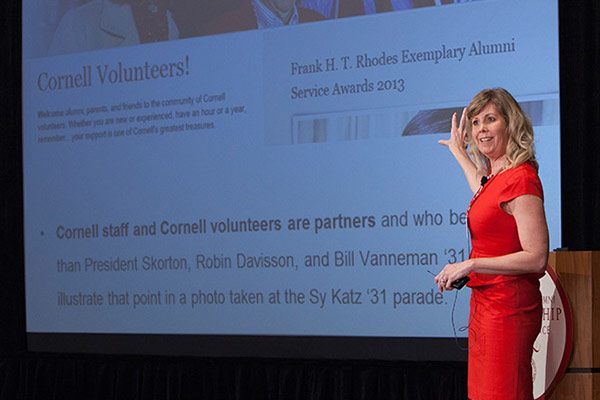 Long tradition, new directions
Volunteers, Daniels notes, have been essential to Cornell for nearly all of its 150 years—since 1872, to be exact, when the Cornell Alumni Association was formed.
In 2013, the Trustee Task Force on Volunteer Leadership, under Daniels's leadership, completed its report and offered recommendations for many ways to cultivate more meaningful and rewarding volunteer experiences for Cornell alumni, parents, and friends, and to encourage them to form lifelong relationships with the university.
"Until the taskforce on volunteer leadership was formed, the university had never looked at the function of its volunteer programs in depth and in systematic ways so that we could improve the volunteer experience for both the university and the volunteers," Daniels says. "Cornell's volunteer network is strong, but it can be made even stronger by implementing consistent and thoughtful processes to support volunteers and university volunteer managers."
Laura Denbow, senior director for the Office of Volunteer Programs (OVP) for Cornell's Division of Alumni Affairs and Development, says that her team has been implementing many of the task force's recommendations, and more efforts are underway. Denbow explains that OVP's goals include expanding the engagement of volunteers and providing them more information about proven practices and procedures as well as the tools they need to be effective. Another aim is to improve and enhance communications with volunteers and university volunteer managers.
Better matchmaking
The creation of CUVolunteer is the most tangible result of OVP's collaboration with the task force. It's a quick and easy online portal that helps alumni find opportunities best suited to their interests, skills, location, and available time.
"We want to help our volunteers have the most meaningful experiences we can," Denbow says. "This is a way to help them identify their interests and connect them to those opportunities that matter to them most. It's one way we want to say, 'We need you. We heard you. We know you are busy, and we want to help you make your biggest impact on Cornell in the most efficient ways we can.'"
Here, there—and on social
Collectively, volunteers create a vibrant, engaged community around the world, wherever they live, as individuals and in groups.
Cornell's volunteer roles range from class and Reunion leaders to social media ambassadors; from student mentors and admissions interviewers to councilors and advisors for Cornell's leaders.
The university has identified more than 1,100 volunteer organizations and believes there may be more. Among them are classes, clubs, advisory boards, young alumni groups, councils, college and unit organizations, annual fund committees, and Cornell Mosaic—an umbrella organization for Cornell's seven diversity-focused groups.
Volunteers also take on one-time stints, such as by participating in Cornell Cares days of service hosted around the country. Cornellians also make an enormous difference through digital engagement, online and through social media. Online, for example, 20,000 volunteers signed the Cornell NYC Tech petition, and tens of thousands of unique participants voted in the past two Alumni Trustee elections.
Andrew Gossen, executive director for digital in the Division of Alumni Affairs and Development, explains that, "CornellSOCIAL is our primary body of social media volunteers. We have 500 volunteers at this point, who have a collective reach of 528,374 people. Since the initiative started in 2015, their efforts have produced over 540,000 impressions on Facebook, Twitter, and LinkedIn.
"It's a tool that helps us get key messages into areas of the Cornell community online that we may not be able to reach with central e-mails. We like the program because it provides volunteers who spend lots of time online with a quick, easy, and effective way to engage their networks on behalf of Cornell. When we send a request for the volunteers to share content the response is almost instantaneous. And that's the speed at which volunteering can happen in a digitally networked world."
Giving along the way
Most volunteers also make gifts to the university. "While that's an expectation, we are deeply appreciative of contributions at whatever level that is comfortable," says Denbow.
One study of Cornell volunteers has shown that volunteer engagement and philanthropy go hand in hand. In FY11, Cornell's median giving was 10 times greater for alumni volunteers than alumni non-volunteers, and 20 times greater for non-alumni volunteers than non-alumni non-volunteers.
A rewarding community
In recognition of exceptional service, Cornell bestows a dozen awards and recognitions to top alumni volunteers, including the Frank H. T. Rhodes Exemplary Alumni Service Award, which recognizes up to six alumni each year for long-term service, and the William "Bill" Vannemann '31 Outstanding Class Leader Award, which recognizes exemplary class officers.
But the greatest rewards may come from personal satisfaction and growth, according to Daniels, who has taken what she has learned through volunteering and applied it for addressing challenges in other businesses and organizations: "I can truly say that I received far more back in terms of personal fulfillment than I feel that I have given Cornell. Volunteering forCornell is one of the most rewarding and enriching things I've ever done, because of Cornell's uniqueness from the very beginning as a land-grant, non-sectarian university, and because of its community."
"University alumni everywhere give back in time and treasure. But one of the things that what sets apart Cornellians is the sense of community," says Daniels. "I would urge Cornellians to give volunteering a try. They may be surprised at how much enjoyment and fulfillment they will experience."
Daniels says, "I would urge Cornellians to give volunteering a try. They may be surprised at how much enjoyment and fulfillment they will experience."
Get involved
Visit our volunteer page or explore CUVolunteer to find the perfect volunteer opportunity for you.