In its eighth year, the Asia-Pacific Leadership Conference continues to nurture and celebrate the work of an ever-growing group of Cornell club leaders and community builders in the region.
Last April 1–2 in Beijing, China, the conference featured several talks, panel discussions, presentations, and networking opportunities, drawing together a delegation of university leaders from the Ithaca campus and more than a hundred alumni leaders from 11 club areas in Australia, China, Japan, Korea, Hong Kong, Indonesia, Malaysia, Singapore, Taiwan, and Vietnam. At the height of the conference, more than 350 alumni, students, parents, and friends gathered for an all-alumni panel and reception.
"The purpose of the conference is two-fold," said Hongnan Ma MA '01,director of Cornell's international alumni relations, "to inform and inspire with the latest from the Hill, and to encourage the cross-pollination of ideas, enthusiasm, and best practices among volunteer leaders from around the region."
Reconnecting attendees with the university, several sessions featured Cornell administrators and faculty members. These included Ya-Ru Chen, the Johnson School's academic dean for China initiatives; Jim Mazza '88, associate vice president for alumni affairs; Hirokazu Miyazaki, director of the Mario Einaudi Center for International Studies; Eduardo Peñalver '94, the Allan R. Tessler Dean of the Law School; Laura Spitz, provost for international affairs; Annelise Riles, the Jack G. Clarke Professor of Far East Legal Studies; Gretchen Ritter '83, the Harold Tanner Dean of Arts and Sciences; Fred Van Sickle, vice president for alumni affairs and development; and  Xinqzhong Yu, the Anthony W. and Lulu C. Wang Professor in Chinese Law.
Exploring links to this year's host country, the conference included presentations and discussions about China, and recognized Cornell University's partnerships, most notably the China and Asia-Pacific Studies program, which marked its 10th anniversary this year. To further strengthen ties and to help guide the university's endeavors in the country, the Cornell-China Advisory Board was recently created. Chaired by Gang Yu MS '86, the inaugural board —comprised of Chinese entrepreneurs and innovators—was inducted during a special ceremony.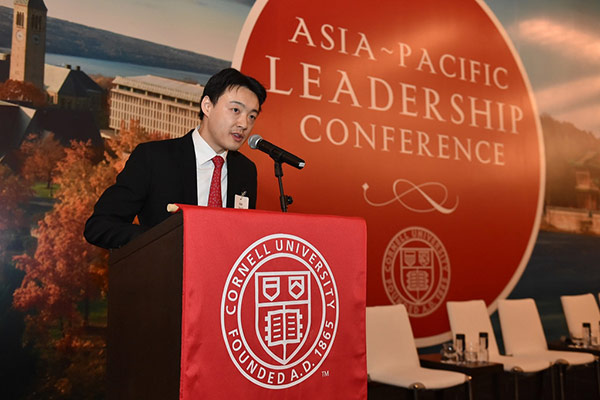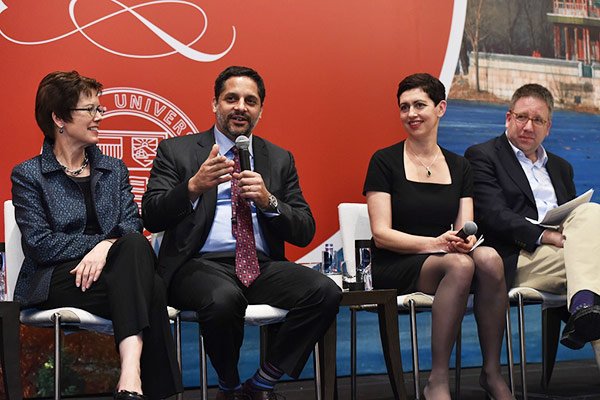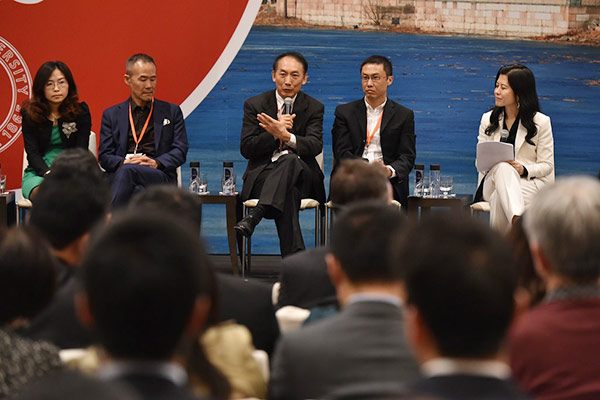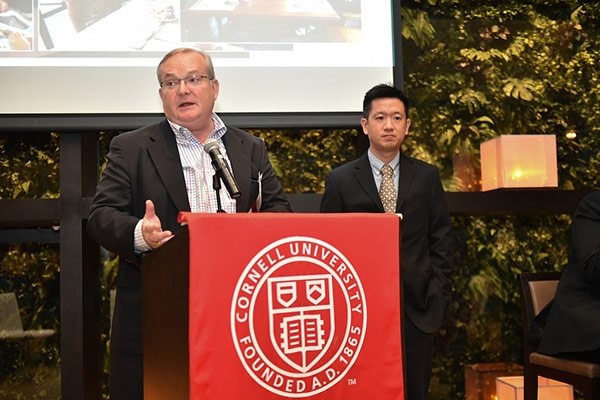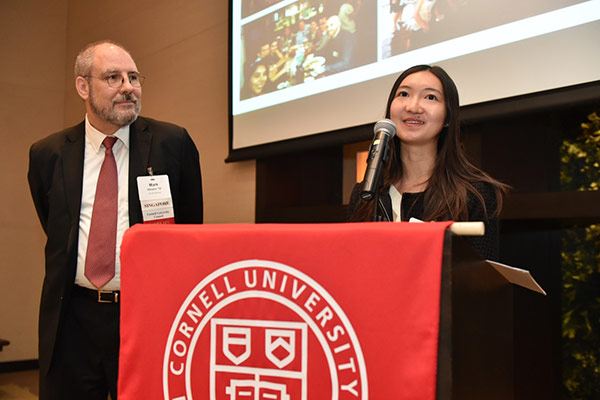 The conference also harnessed the attendees' collective wisdom. At a session dedicated to sharing insights and experiences, Cornell club representatives took turns at the podium to discuss their group's strengths, accomplishments, and opportunities for growth. How to bridge the generation gap among alumni members, how to build excitement and awareness in their communities, and how to identify and cultivate leaders were just some of the issues the groups explored.
Mentorship is a key component in the continuous process of sharing knowledge, according to Mark Hansen '79: "When we founded the Cornell Alumni Club of Singapore, we received mentorship from the Cornell Club of Hong Kong. We, in turn, want to help other clubs that are in the early stages of development or are still being formed."
Hansen is a member of the Cornell University Council and the Cornell Asia Alumni Leadership Advisors (CAALA), a small group of pioneering volunteers who have helped guide Cornell communities in the region: "It really is a team effort. Jeff MacCorkle ['88] in Beijing, Bobby Tsai ['83] in Hong Kong, and I work together with the international alumni affairs office in Ithaca to help support clubs that are still developing," he said. "We have been involved in supporting Indonesia and Vietnam, in particular, in the past year. In addition, each of us supports and mentors the next generation of leaders in our home countries' alumni clubs."
Hansen added: "We learn from our mentees by their questions. Also, they are more experienced in using—and they better understand—social media as a tool to reach out to younger alumni. The most profound insight I've gained is that the Cornell spirit transcends generations and national and cultural differences. We all share a common experience that connects us."
For MacCorkle—former president of the Cornell Club of Beijing and a current member of the Cornell University Council—the rise of new Cornell leaders and the growth of community members have been inspiring: "As I get older, I find it exciting and energizing to meet so many young prospective students, [current] students, and alumni. With older alumni I meet, Cornell is a wonderful common ground, which has been the basis for many great friendships in Asia."
Currently, there are nine Cornell clubs and 11 recognized Cornell communities in Asia and the Pacific, and the demographic of Cornell volunteer leaders has shifted more and more from seasoned US expatriates to a younger set of international alumni, according to Ma. In organizing the conference, she collaborated closely with the CAALA team and the Cornell Club of Beijing's co-presidents, Tanni Wu '06 and Alan Zhou '03—exemplars of new volunteer leaders in the region.
Strong ties to the university are vital, according to Zhou, and he touted the tremendous power of international Cornellians in making a difference far beyond the Hill: "As alumni based on the ground here, we can contribute significant ideas as well as meaningful resources to carry out Cornell's strategic initiatives for Asia. The challenge is figuring out the best collaboration model to enable the university to tap into the rich network of resources available through alumni in the region."
Learn more about international Cornell clubs and communities.
Sign up to receive our newsletter for international Cornellians.