Since graduating 28 years ago, Michelle Brown-Grant '88 has rarely missed a reunion of the Cornell Black Alumni Association (CBAA) – and she knows exactly why these events are important to her.
"There is nothing like being around people who have helped shape your path and purpose," she says. "CBAA reunions and other gatherings allow me to reconnect."
This year's Homecoming weekend, September 23–25, represents another opportunity for Brown-Grant to visit campus, and it will be special because the association will celebrate the 40th anniversary of its founding throughout the weekend.
Brown-Grant, along with CBAA members from across the decades, will participate in a series of commemorative events that are open to the public and honor the history of Cornell's 47-year-old Africana Studies & Research Center, including a multigenerational panel about the 1969 Willard Straight Takeover, a film screening of the film Agents of Change, and a dedication ceremony commemorating the original site of the center, which was destroyed by arson in 1970, at 320 Wait Avenue.
In addition, CBAA will host a welcome-back block party on Friday, a tailgate before Saturday's football game, a Saturday evening banquet featuring remarks by Interim President Hunter R. Rawlings III, and a send-off brunch Sunday morning.
Engaging alumni, mentoring students
Brown-Grant, who is an assistant professor of education at Felician University in Rutherford, New Jersey, stepped into her role as CBAA president for two main reasons: she is passionate about helping other Black alumni reconnect with Cornell, and she wants to increase the engagement of Black alumni with current Black students.
Whenever I meet Cornell alumni who tell me they have never been back to campus after graduation, I become a salesperson and tell them to give Cornell a chance," says Brown-Grant. "'Come back!' I say. 'Come see all that is going on. Reconnect with other alums.'
—Brown-Grant
A first-generation college student, she feels strongly about encouraging today's Black students in their academic work by mentoring them and by serving as a sounding board for all aspects of their Cornell experience.
 "It is important for CBAA to keep its ear to the ground and listen to student concerns, because sometimes when you are a college student, you think that you are the only one who has gone through these challenges," she says. "CBAA has been involved in social justice issues and student activism at Cornell for decades. We try to connect with undergraduates to say, 'We went through a similar experience. This is what we did; this is what worked, and this is what did not work.' Having these intergenerational conversations has been meaningful."
CBAA members strive to be present for current and prospective students throughout the year, she explains.  They are also active on various committees and councils at the university and in their communities.
"You look through the lists of Cornell Black alumni and find leaders across the professions, in the corporate world, in higher education—everywhere. It's important for us to be visible so that students see that we graduated from Cornell and continue to give back.  Many of us have used our activist experiences at Cornell to propel our professional and personal lives," she says.
In addition to serving as mentors and advisors, CBAA members also raise funds to expand scholarship opportunities for Black students.
"One of our concerns is Cornell's affordability," she says. "Financial aid is always an issue. Even though the economy is doing better, some families are still struggling and trying to recover from the economic recession."
Since 1989, CBAA has created a number of endowed scholarship funds to benefit qualifying Black students, including the James and Janice Turner CBAA Scholarship Endowment, the John Henrik Clarke Scholarship, and the CBAA Cornell Tradition Scholarship. CBAA also recognizes leadership of current Cornell students with an annual student leadership scholarship award.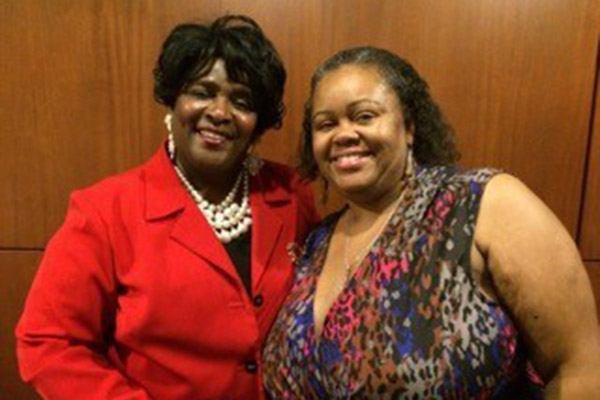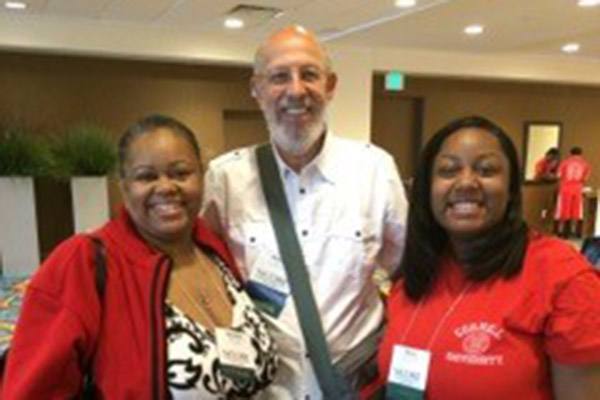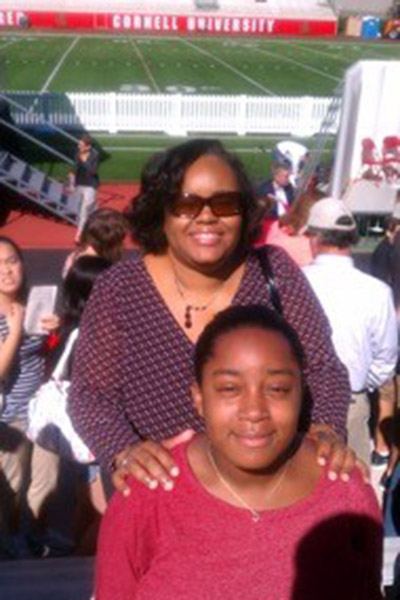 Cornell is a gem
Watching her own daughter, Misha Inniss-Thompson '16, "come in to her own" and graduate from Cornell with honors and distinction increased her awareness of the opportunities Cornell opens for today's students. During her time at Cornell, Inniss-Thompson participated in research projects and presented at national conferences. These opportunities inspired her to pursue a PhD in human and organizational development at Vanderbilt University, which she begins this fall.
My daughter's experiences really opened my eyes. Cornell is a phenomenal institution. There is so much that is offered to students. I just want others to know: Cornell is a gem. I did not fully realize that when I was a student.
—Brown-Grant
In mid-September, Brown-Grant will return home once again to Cornell.
"It rejuvenates me," she says. "I have always taken the same major road, Route 17, all of the way from New Jersey, and the memories of my time at Cornell just start to flood back. Cornell gives me energy. It soothes and restores my spirit. I remember who I am, what I determined I was going to do with myself in my life, and how purposeful I was. I am able to reconnect with friends and other alumni—and then I return home ready to conquer my next set of goals."