In the press of bodies and booths at Cornell's University Career Fair Days in Barton Hall, one employer display stood out to Sixia Chen MEng '18: Build It Yourself, an engineering and design education company founded by John Galinato '66, MEng '68.
"I was attracted by the weirdo stand decoration and the silly, cute 'brainstorm' hat on John's head," says Chen, now an operations manager at Build It Yourself (BIY). The whimsical stand decoration and silly hat spoke to Chen, who considers herself a creator as much as an engineer. She soon discovered that Build It Yourself was a good fit for her.
"BIY believes that art should drive engineering," she says. "I love both. I like to play the piano and do chemical/biochemical engineering."
Build It Yourself offers a youth enrichment program, teaching kids ages eight to 13 engineering and design skills through imaginative missions and a vibrant online community. Some kids join projects from home while others join workshops in after-school programs or summer camps.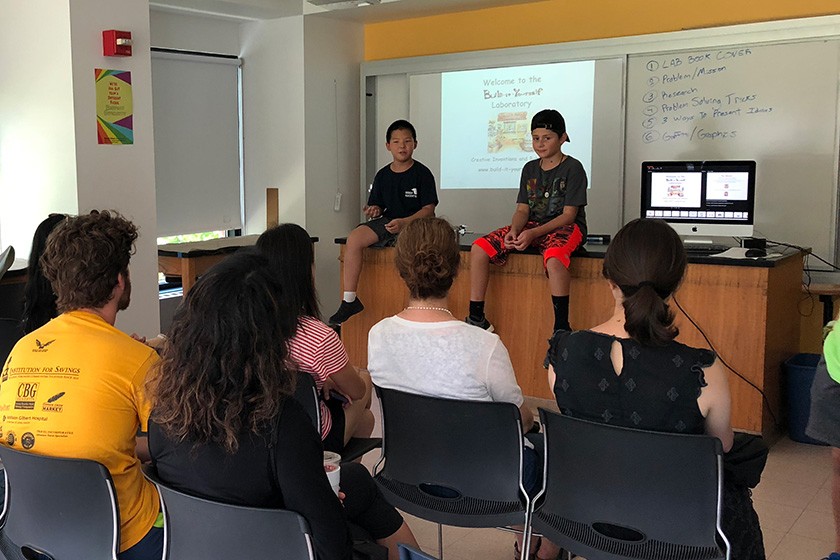 "My goal is to inspire and guide kids to build," says Galinato, who studied electrical engineering at Cornell. His own life-long love of building things, plus an irreverent approach, show on the Build It Yourself website and the company's laboratory in Cambridge, Massachusetts—both populated by robots and quirky creatures created from everyday objects.
Build It Yourself started as a hobby. Galinato sold a software company in 2000 and took a few years off to "goof around," building remote-control boats and trucks. While exhibiting the models all over the world, he noticed that kids really liked them. He decided to channel his love of building into a teaching tool for kids, families, and schools.
"It started as something I would have done when I was a kid," says Galinato. "It's slowly evolved into what I hope will be a valuable business."
Over the years, more than 25 young engineers and artists—many of them Cornellians—have worked as teachers and developers with Build It Yourself. The company currently has a crew of 13 working both online and in person to lead kids through BIY missions.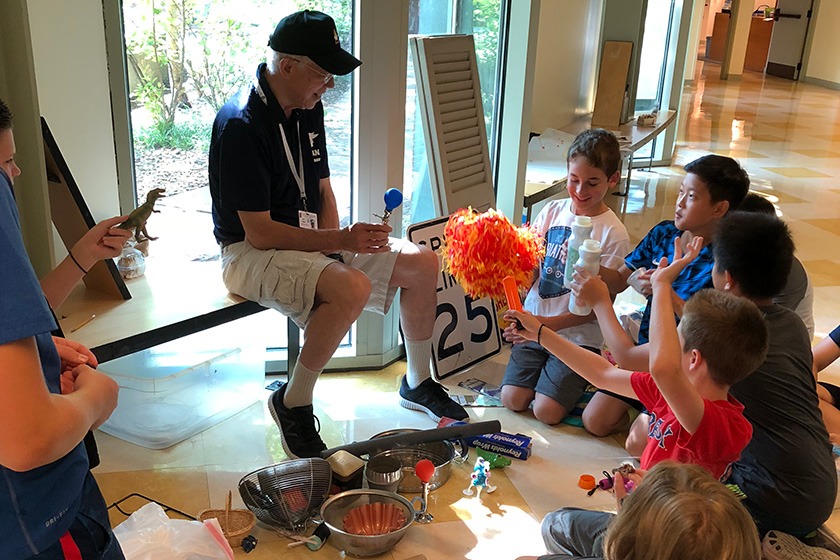 "We set up a scenario based on daily life and ask them to solve a problem by using their own power," says Chen. "They are supposed to give us a way-cool solution and an interesting story to present their outcomes to the audience."
Mission outcomes include: a catapult, a nature-inspired jungle garden, a healthy but artistic dessert, a soapbox racer.
Alex Lichtenberger '21 still has the product of a Build It Yourself project in his garage. As an elementary student in Boston, he completed a BIY afterschool soapbox derby workshop with a friend. At the end of the project, he took the car home. That summer, the two boys spent a lot of time making additions to the vehicle, such as rubber band guns and a convertible roof.
"At that age, I don't know if I could have built the base of the car without guidance," says Lichtenberger, "but once I had that platform, my best friend and I could go off the rails."
Part of our challenge is to create building environments that simulate and complement physical spaces, so we try to keep one foot in the real world.
—John Galinato
The autonomy and hands-on creativity he gained from BIY, together with other opportunities, helped him stay ahead of the curve his first year studying computer science at Cornell. Now Lichtenberger works for BIY a few hours a week, in addition to his Cornell studies, as the project manager for Invention Universe, the in-house social media platform where kids display their projects.
"It has been a great way for me to have a project all year long," he says. "Across semesters, working on this large-scale project, applying what I learn in my computer science classes to what I'm doing with Build It Yourself."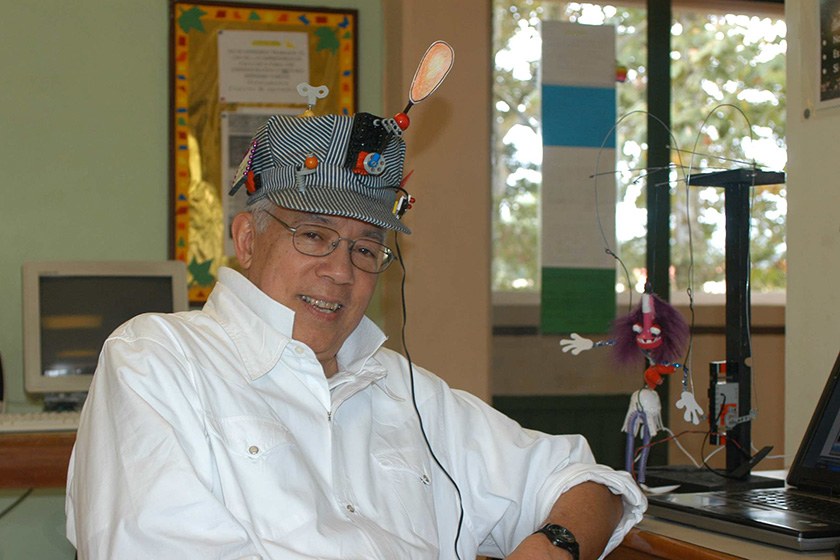 Cornell —in particular Cornell Engineering—excels at project-based learning, says Galinato, and he's pleased to tap into the network of young alumni and students to help him introduce kids to the world of making things: "I love working with Cornellians. Please contact us if you would like to join our team and help us grow a global community of builders."