Before she enrolled at Cornell, Yonn Rasmussen '83, MS '86, PhD '89 visited the Ithaca campus with her parents and saw for the first time McGraw Tower, the inside of Andrew Dickson White Library, and the suspension bridge over the gorge.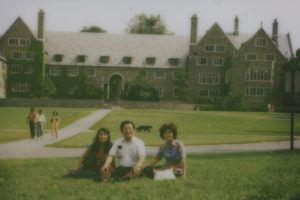 "I remember walking down the well-worn steps of Willard Straight Hall to the cafeteria in the basement and thinking how many Cornellians must have passed through there to make the concave indentation on the stone steps," she said.
Rasmussen added her own footfalls to those steps, earning three degrees at Cornell, then becoming an active alumna. Now, she is a member of the Cornell University Board of Trustees, elected by alumni, along with John Boochever '81, to join the 64-member board that oversees all properties and operations of the university's campuses. Their four-year terms began July 1.
"I'd like to thank my fellow alumni for placing their trust in me," said Boochever. "It's been wonderful getting to reconnect with so many during this process, and I hope to carry those good feelings and well-wishes with me for the next four years."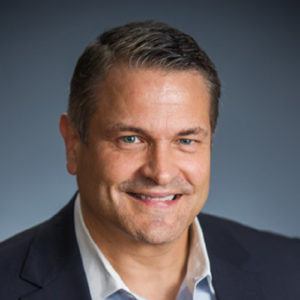 Boochever is chief digital strategy and innovation officer at Atlas Research, a veteran-owned business providing services to federal health agencies. This position follows a 30-year career in international management consulting. He is a graduate of Cornell's College of Arts and Sciences with a BA in government and economics. He holds an MBA from the University of Chicago and an MIPP from Johns Hopkins School of Advanced International Studies.
Rasmussen is vice president of Xerographic Component Systems Group at Xerox, part of a corporate career of more than 25 years leading global technical organizations. She holds 29 patents. She has an MBA from the University of Rochester in addition to a BS, MS, and PhD from Cornell's College of Engineering.
They shared their thoughts about service as alumni-elected trustees.
How does it feel to be entering your first term as a trustee elected by your fellow alumni?
Boochever: Being elected a trustee at Cornell is truly one of the greatest honors of my life. The recognition has been incredibly validating of my devotion and years of service to the university, but also very humbling in the sense of the responsibility that the alumni have vested with me. I feel excited, a little nervous, proud, and grateful, all wrapped into one. It's so gratifying—I'm looking forward to the next four years and hope I can make a difference and make our alumni proud.
Rasmussen: I feel honored and thrilled to be an alumni-elected trustee, and I am grateful for the trust alumni have placed in me. Being part of the board of the trustees is an important responsibility to ensure Cornell's continued success now and into the future by providing oversight over all matters pertaining to our alma mater, and I take it very seriously. I have my thinking cap on to see how to serve Cornell best and contribute to the work of various committees.
What did you learn during your orientation in New York City June 13-14?
Boochever: Having chaired the Alumni Trustee Nominating Committee (CATN), I thought I had a pretty good understanding of the role and a reasonable grounding in the affairs of the university. Orientation taught me that Cornell is far more complex and expansive than I imagined. For example, about half the university's income and faculty are outside of Ithaca! I had never experienced Weill Cornell Medicine nor Cornell Tech before in any way. Yet those are major aspects of the university on a par with Ithaca—and represent significant growth opportunity. Our time touring the Department of Emergency Medicine at Weill and the Cornell Tech facilities on Roosevelt Island was truly inspiring, representing the best of Cornell ingenuity coupled with community and service. Meanwhile, we had briefings on all aspects of Cornell's activities and enterprise: legal, environmental, physical plant, labor relations, relationship with New York State, Title IX, NCAA regulations, and more. It was pretty mind-boggling.
Rasmussen: Although it was an overview, I learned a great deal about various aspects of Cornell, which is very complex in its structure and reach. For example, Cornell has a truly vast reach through its multiple campuses and programs (Ithaca's main campus, Cornell Weill Medical Campus, Cornell Tech, Qatar, Cornell in Rome, and others.) In particular, since the orientation was held at Weill and Cornell Tech campuses, which I have visited previously, I gained more in-depth understanding of Weill Cornell Medical, including its impressive emergency room operation, and the Cornell Tech's current and future plans. I learned about the Cornell's administrative organizational structure and how it functions and also how it interacts with the external communities. I gained more appreciation for Cornell's great reputation and how Cornell exerts influence on the global stage through the renowned faculty research, high caliber of the student body, strong alumni base, and responsible global citizenship.
What issue would you most like to work on as a trustee? How would you like to work on this issue during your term?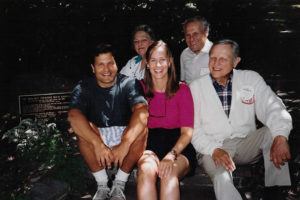 Boochever: I'm interested in helping define, put the resources behind, and strengthen the common ties that make us one Cornell, given our investments in Cornell's presence outside Ithaca. At Cornell Tech, you really get a sense of the future—of teaching, of innovation, of interdisciplinary teaming—unfolding. Virtually all of the university's strategic initiatives will affect the academic experience across campuses, whether in active learning (so called "flipping the classroom"), team-based learning, residential learning, or partnerships with the private sector. I have a much better picture now of where Cornell Tech is in its journey, the nature of the pilot programs there, and the opportunity for cross-campus programming between Ithaca and New York in nearly every area, even the humanities.
Rasmussen: I would very much like to contribute to "innovation through diversity" to help unleash the potential of "one Cornell." For example, I would like to look for opportunities to bring the idea of "radical collaboration" between humanities and technology fields through concrete activities. This has long been an area of passion for me, and I would like to work on any endeavors to spark innovation at the intersection of arts/humanities and science/technology/engineering. As I learn about the various committees' work on the board of trustees and get deeply involved in the specifics of each of the committee's work, I hope to find concrete ways to contribute to this cause.
How has your past engagement with Cornell prepared you for service as a trustee?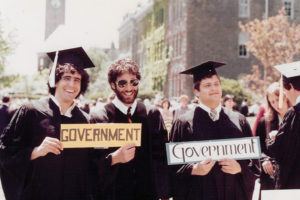 Boochever: I think the big "a-ha moment" in becoming a trustee is the realization that you have fiduciary responsibility for the entire university, not just the corners where you have been volunteering or have familiarity. The notion of "one Cornell" looms large over the coming experience. I've been fortunate to have experienced and gotten involved across a fairly broad cross-section of Cornell activity including: Arts & Sciences, alumni affairs, fund-raising, class activities, Cornell club activities, admissions, career services, fraternity business, athletics (especially football and rugby), Cornell Family Fellows, the Johnson Museum, and the Committee on Alumni Trustee Nominations. I feel about as well prepared as possible, and still there is so much more to know! That was probably one of the main takeaways from my time at orientation.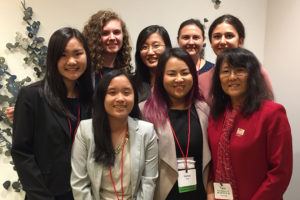 Rasmussen: I have been involved as a Cornell volunteer for a very long time in varied and diverse ways. Over multiple decades, I have been helping students through mentoring for Society of Women Engineers events, Expanding Your Horizon, Externship and FRESH programs, many mentoring programs for undergraduates and graduates, and the Cornell Scientista student organization. I have been involved in enhancing the life of women faculty and students, and alumnae engagement through the President's Council of Cornell Women, and have been involved in the College of Engineering through the Leadershape program as an industry leader participant, various courses and STEM speaker programs, and shaping the future of the materials science and engineering department as an advisory board member. All these activities and experiences provided me with an up-close and personal, hands-on view of various aspects of Cornell at the ground level, which helps me contribute to the conversation at the policy level that provides oversight to all aspects of Cornell.