In August 2020, Amanda Massa, associate director of young alumni programs for Cornell Alumni Affairs and Development, released the 50th episode of Fresh from the Hill: Inside Stories of Noteworthy Cornellians. This podcast, winner of the 2020 Communicator Award of Excellence, offers an inside look into the lives of recent graduates. Massa tracks down noteworthy Cornellians to hear about their lives and the role that Cornell played in their journeys.
To celebrate International Podcast Day on September 30, Massa will host a special episode of Fresh from the Hill, spotlighting Cornellians in the podcasting industry. Massa will feature more than 20 alumni who host, produce, and create podcasts that run the gamut of topics—from reflections on collegiate life with current student Louisa Weldy '23 to interviews with some of China's top women entrepreneurs with Juliana Batista '16.
Here, we catch up with a handful of these alumni to learn more about their journey from Cornell into the world of podcasting. We hope you enjoy these candid conversations with four bright young creators. Tune in on September 30 to hear from more Big Red podcasters.
The Rozy Effect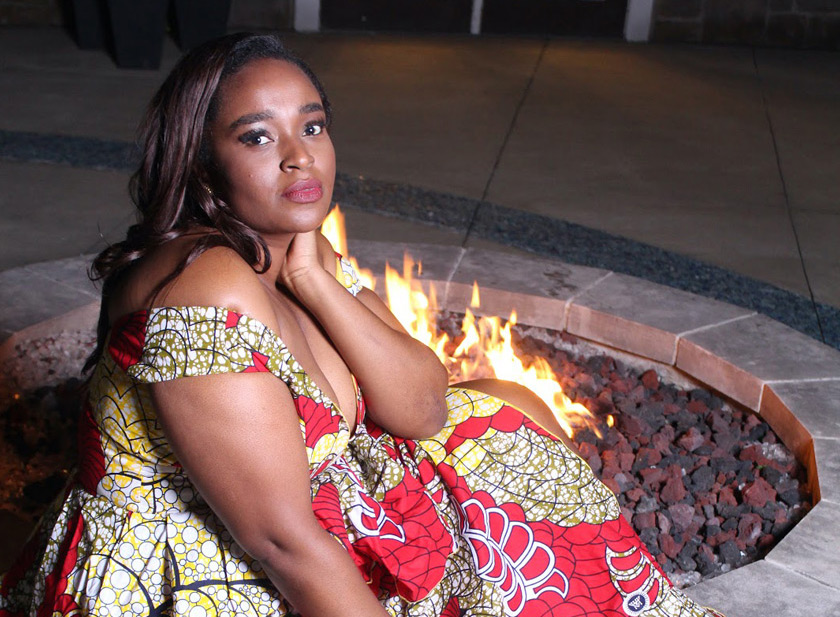 Rozy Amponsah MBA '18 has always enjoyed being in the limelight. As a teenager, she hosted a gospel radio show. "That's when I realized that, not only did I have a knack for connecting and engaging with people, but I also really enjoyed it," she says.
Rozy started a business podcast about seven years ago, and since then she has worked to refine her craft and focus in on the sweet spot where her talents as an interviewer overlap her passion for technology. She is passionate about digital tech and its potential to transform businesses to better serve diverse customers in an increasingly global world.
"I enjoy having the ability to build and own my story and deliver it by bringing my full self to the microphone. I can share my expertise and unique positioning as a Black woman in tech and attract a community to build with," she says. "I also like the idea that you never know who is listening."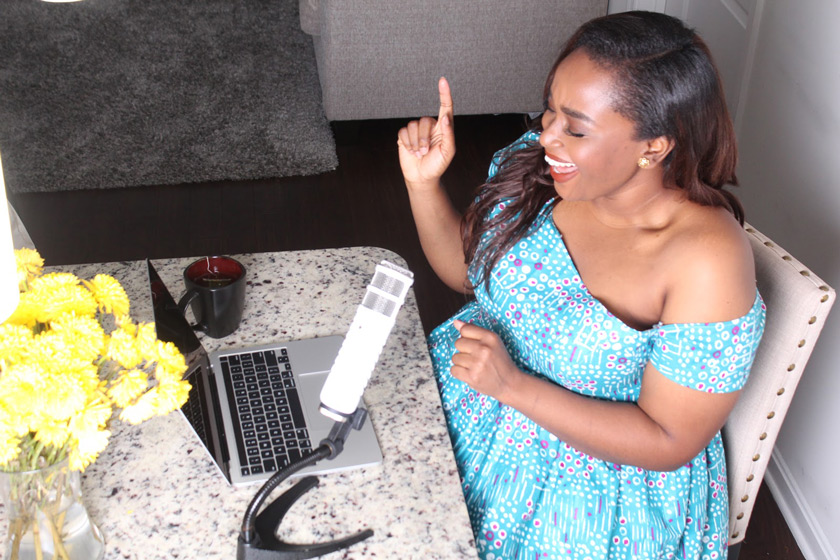 For her podcast, The Rozy Effect, Rozy seeks out tech leaders across a variety of fields, especially those who are disrupting traditional processes in order to solve a problem. For example, she recently interviewed Dr. Muri Raifu, a neurosurgeon who is thinking about how to upend the healthcare industry. Rather than defining patient care options through the lens of insurance companies, Dr. Raifu hopes to streamline care to put the patient first.
In selecting her guests, Rozy says, "I look within my network, within my network's network, and within Cornell's network. I am a hunter—searching for those magical connections that can provide my audience with new insights."
I also like the idea that you never know who is listening.
—Rozy Amponsah MBA '18
Rozy thanks the Cornell entrepreneurial community for helping her to connect with accomplished alumni who are leaders in their fields. A recent episode featured an interview with Jennifer Dulski '93, MBA '99, a former leader of Change.org who recently launched Rising Team, a startup focused on building better teams by training better managers, in order to deliver better value to customers.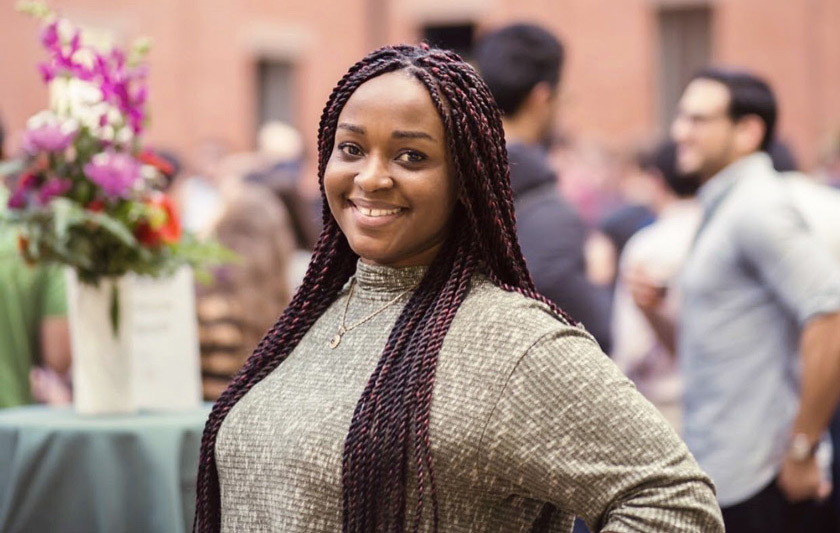 Rozy also turned to the Cornell Entrepreneurship Network (CEN) list serve community to recruit her two interns, Suzette Abreu '20 and Shauna Cheatham '19. "Our brilliant and industrious interns are Cornell alumni who spearhead the growth marketing initiative for The Rozy Effect. Shauna and Suzy work virtually by my side, editing short video snippets and delivering on strategy across social platforms," says Rozy.
Since she launched the project in August, Rozy's short videos on LinkedIn have more than 9,000 views.
Rozy's immediate goal is to sustain her interns through the podcast by the end of 2020. Ultimately, she would like to build a community of like-minded business leaders who share their knowledge and expertise. "My goal over the next year is to build a community of 1000 people who believe in my mission and who are passionate about the future of digital transformation," she says.
The Once and Future Nerd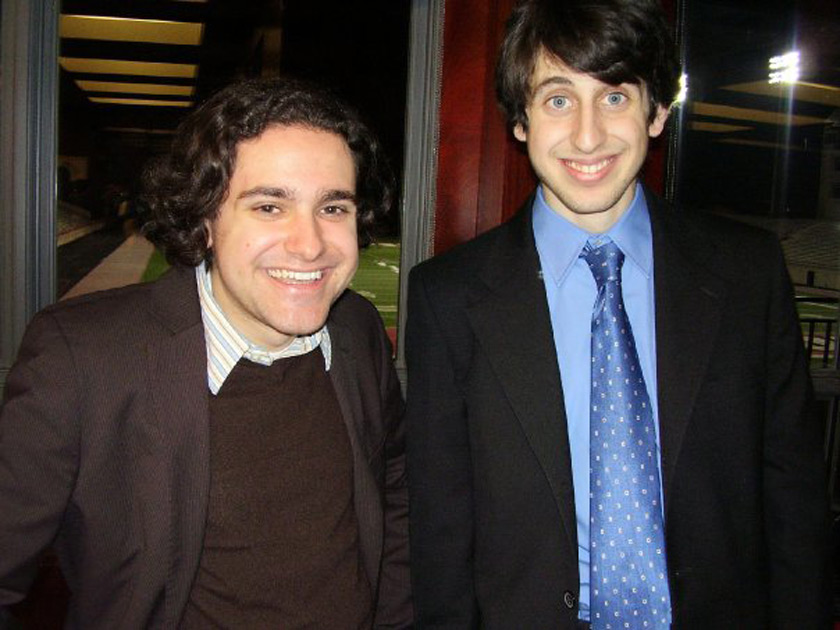 "When three high school students from modern-day Pennsylvania find themselves trapped in a world of wizards, Elves, and feudal intrigue, they must learn to survive in their new surroundings, and undertake an epic quest to save the world from the encroaching forces of chaos…"
This is your invitation to enter the imaginary realm of The Once and Future Nerd (TOAFN) created by co-writers and business partners Christian Kelley-Madera '10 and Zach Glass '09. The duo met in marching band and pep band at Cornell, and they share an abiding love for fantasy fiction.
"Zach and I wrote a TV pilot for a sprawling fantasy epic," says Christian. "By the time we realized no one would ever give us the money to make it, we were also too in love with it to let it go. We figured if we did it as an audio drama, we could make it ourselves."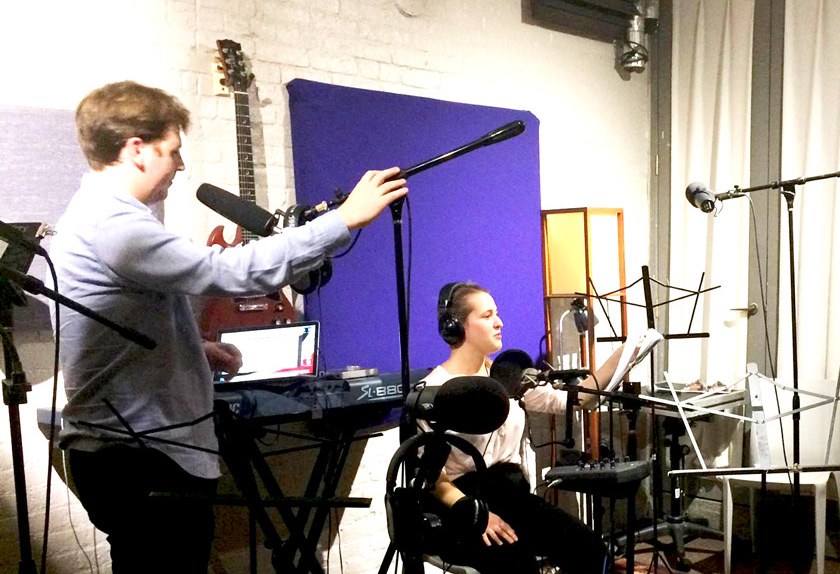 This was the beginning of their podcasting journey.
Christian quickly adds, "If you think that sounds like we were wildly underestimating the extent to which audio drama is a medium and rich tradition unto itself, which we had no training or background in, you're not wrong. We've learned a lot since launching in September 2013."
The current cast and crew of TOAFN includes five other Cornellians: long-standing cast members Ian Harkins '11, Anya Gibian '12, and Julie Reed '12, co-executive producer Jess Kelley-Madera '12, and associate producer Alec Story '12.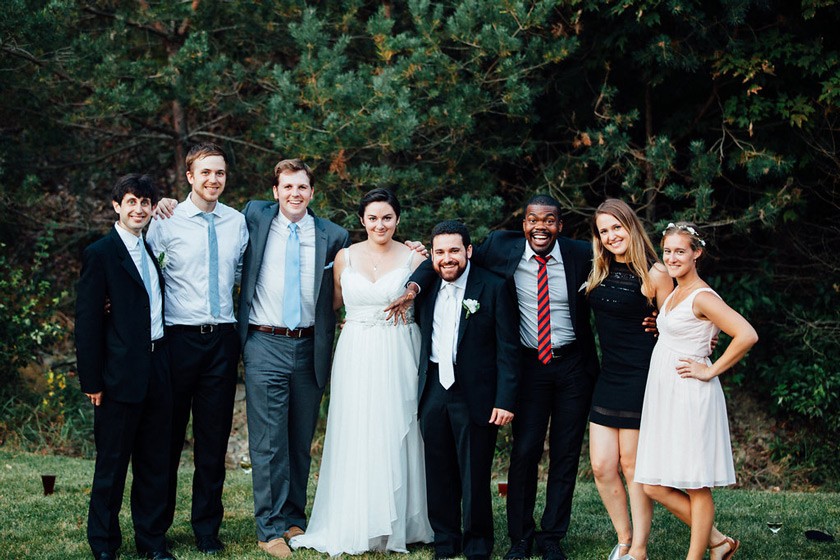 Christian is grateful to Cornell for introducing him to these "brilliant" colleagues, for teaching him how to continue learning and challenging himself, and most of all for teaching him to "sit with the discomfort" of being challenged.
He describes his 18-year-old self as someone who exhibited "every negative stereotype that you would associate with an 18-year-old cishet white guy film major." "But there were people in my classes who challenged me," he says, "and who showed me a lot more patience and grace than I had any right to expect."
I don't think I would know how to ask that of others if it hadn't been asked of me at Cornell.
—Christian Kelley-Madera '10
Christian is proud of the way in which his show challenges listeners to ask themselves uncomfortable questions. He wants the show to "dig into the cultural assumptions" that underly the actions of its characters and the fantasy genre as a whole. "I don't think I would know how to ask that of others if it hadn't been asked of me at Cornell," he says.
Christian dreams of the day when he can devote himself full-time to the podcast—a time when "all the people who work on it could get paid at rates that better reflect their tremendous skills." He recognizes, however, that not many podcasts achieve this level of success.
Entering into the podcasting field, Christian had to re-define his understanding of success to measures within his control: "Am I making a show that I want to see in the world? Am I making it as well as I know how to make it, and putting it out as regularly as I'm able? Am I advocating for my own work, and am I participating in my community in a way I feel good about?"
In the case of TOAFN, his answers to these questions are a resounding yes. "We make a show that I'm very proud of, we've been doing it for over seven years, and a small corner of the internet absolutely loves it to bits," Christian says.
Ta for Ta: Women, Success, China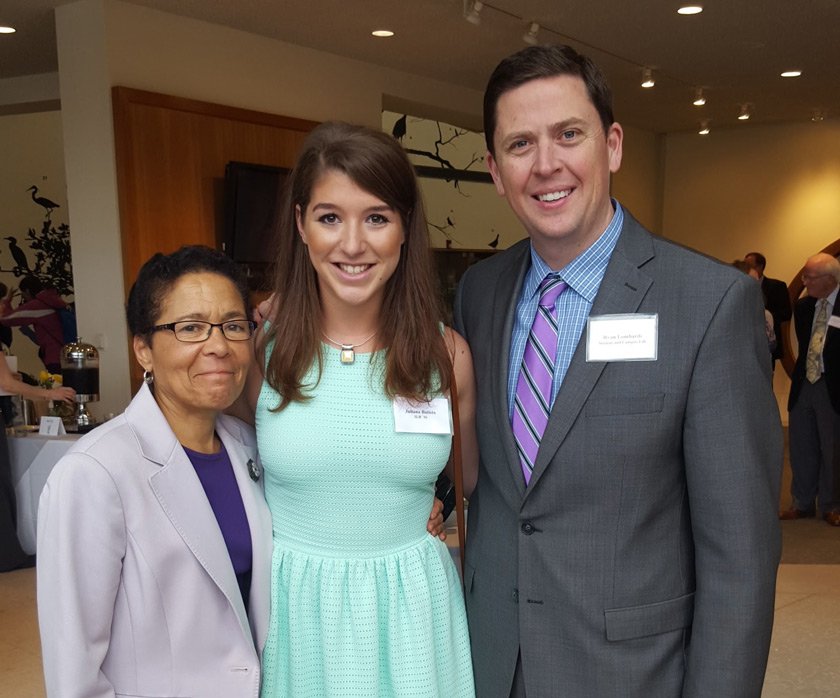 In her senior year at Cornell, Juliana Batista '16 took a few courses focused on China—a decision which forever altered her life. In hindsight, Juliana is grateful to Cornell for allowing her to pivot late in her academic career and take courses outside her major in Industrial and Labor Relations.
Juliana took a class on Asian security with Professor Allen Carlson through the China & Asia-Pacific Studies (CAPS) program, along with a course focusing on the interplay between the U.S. and China and how that relationship influences our country's grand strategy. Juliana looked specifically at China's desire to foster economic interconnectedness, and thereby its political reach, through the Asian Infrastructure Investment Bank.
"If not for my senior seminars that pushed my thinking and piqued my interest, I would not be where I am now," she says. "I had a lot to learn about China, and my coursework at Cornell truly kickstarted my learning."
Her newfound interest in China led her to the Schwarzman Scholars program, where she pursued a concentration in economics and business at Tsinghua University. Soon after that, she launched her podcast, Ta for Ta: Women, Success, China.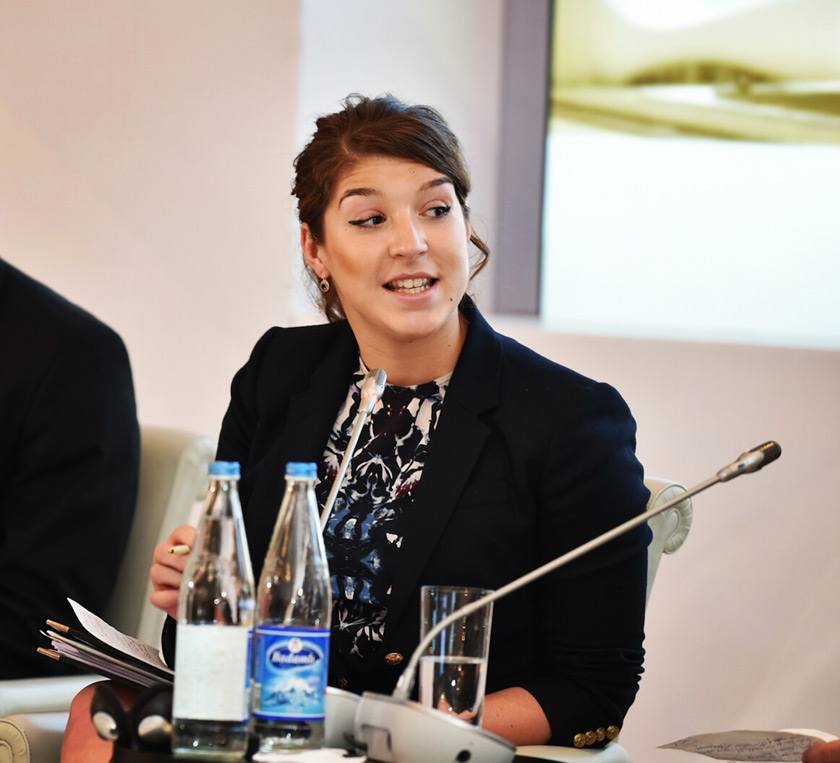 "I wanted to start a project that took advantage of the incredible speakers that were coming through the doors of the Schwarzman Scholars program," she says, "and I was determined to get them for 15-20 minutes after their scheduled lectures for a more informal coffee chat. The idea evolved quickly to focus on women in China who were at the top of their professional game."
Juliana wanted to understand how these successful women made choices. She asked them questions about their decision-making strategies, for example: how did they decide to make a lateral move or choose the right time to focus more on their personal lives. "I really wanted to capture the inflection points in their careers," she says.
Juliana leveraged introductions from previous guests on the show to identify and connect with new guests. "One introduction led to the next, until I landed an interview with Anla Cheng, the CEO of SupChina, Juliana explains. "After that, I became a syndicated podcast on the SupChina network, and that has helped to make the show sustainable and successful."
According to the introduction on the SupChina website, "Ta for Ta" is a play on the Chinese spoken language that demonstrates equality between the sexes. Tā 他 is the word for "he"; tā 她 is also the word for "she."
Drawing out a good story takes astute coaching and practice.
—Juliana Batista '16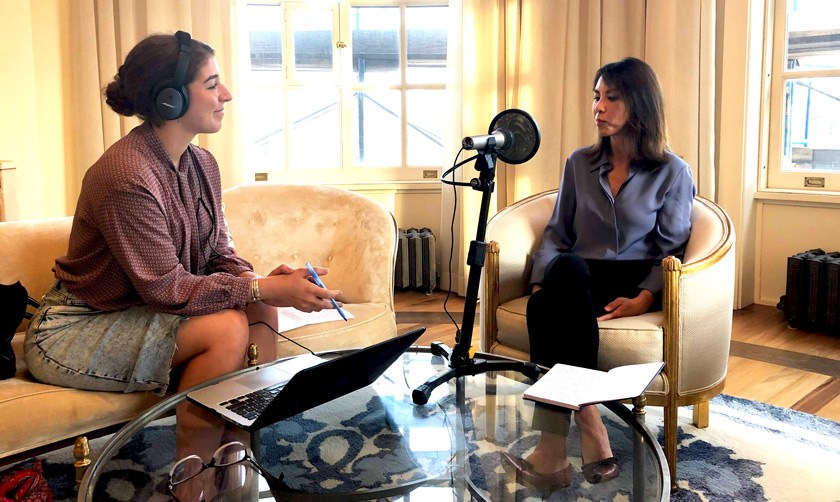 Juliana says that she's concerned about the increasing consolidation of the podcasting space, the increase in celebrity hosts, and the push for higher production quality. She recalls that when she started her podcast back in 2016, the field still felt approachable.
"Podcasts allow audiences to hear the authentic, unfiltered voice of the host and their guests. I hope that podcasting won't deviate too far from its roots as a democratized source of content," she says.
Juliana reflects that there is a learning curve involved in making a good podcast. "Your podcast guest is a narrative in the works, not just a title," she says. "Drawing out a good story takes astute coaching and practice." The host has to focus on listening carefully and approaching the interview with genuine curiosity. "It's so important to be in tune with the nuances of what your guest is actually saying and to learn how to unlock those nuggets of knowledge," she says.
Good One and Hear to Slay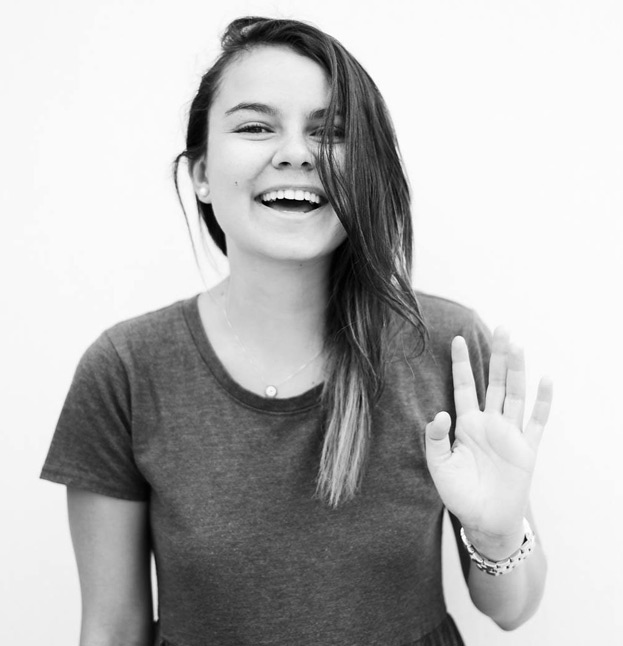 Camila Salazar '16 remembers listening to NPR as a child and being obsessed with Snap Judgment and Ask Me Another in her teens. But the real turning point came with the launch of the podcast Serial mid-way in her Cornell career.
"Serial was the beginning of the podcast boom," Camila recalls. "For the first time, this seemed like a viable career—one with more opportunity and chance than previously believed."
In her senior year, a new class was introduced, Writing & Producing the Narrative for Digital Media, with Professor Christopher Byrne. "I remember having so much fun creating two different audio projects for that class. The final project was a video project, and I struggled so hard. I remember very clearly thinking, 'Wow, my story would be so much better if it was audio-only,'" Camila says.
In her spare time, Camila joined CornellRadio.com, where she thoroughly enjoyed cohosting an online show called Big Red Banter.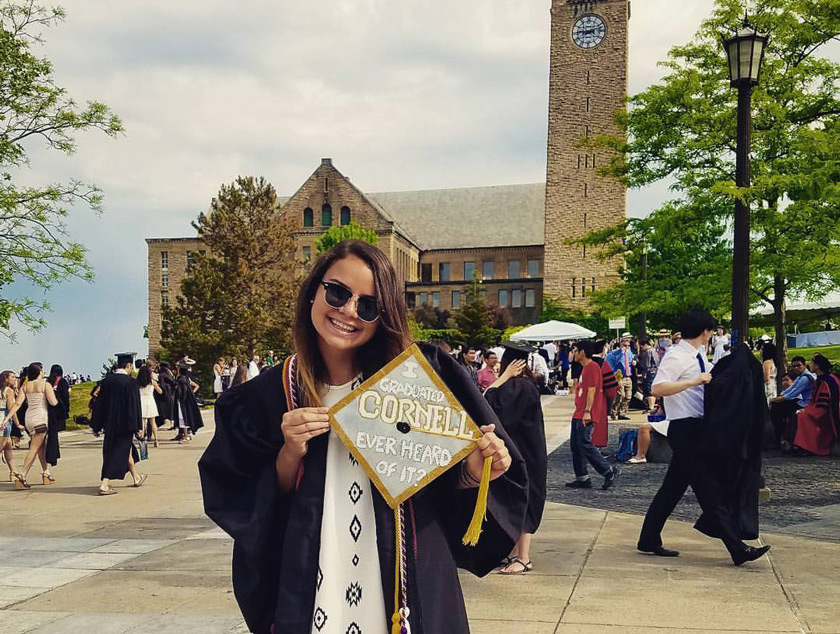 After graduation, Camila interned with NPR's Ask Me Another show in NYC, followed by an internship at WAMU, Washington D.C.'s member NPR station. She juggled these opportunities with multiple survival jobs, including waitressing and SAT tutoring.
Camila found Diane Wu '08, a Cornell alumna who worked for This American Life, on LinkedIn and messaged her. "This was the first Cornellian I'd found anywhere near my industry, and I eagerly reached out. She hopped on the phone with me, and gave me a crazy amount of invaluable advice and resources. Fast forward six months, and she also recommended me for one of my earlier industry jobs!" Camila says.
I have Cornell to thank for my networking abilities, and for my ability to communicate professionally.
—Camila Salazar '16
The connection with Diane Wu helped Camila find a job as a part-time writer for a spinoff of This American Life, which unfortunately never made it to production. While working with This American Life, she landed a fellowship with BuzzFeed's legendary PodSquad. "All the biggest names in podcasting either worked there, or had," Camila says, "and get this: they were all women. The dream!"
Next, Camila accepted a remote job for MacMillan publishing and traveled to Australia, where she worked part-time and enjoyed life-changing experiences like skydiving and cage diving with great white sharks.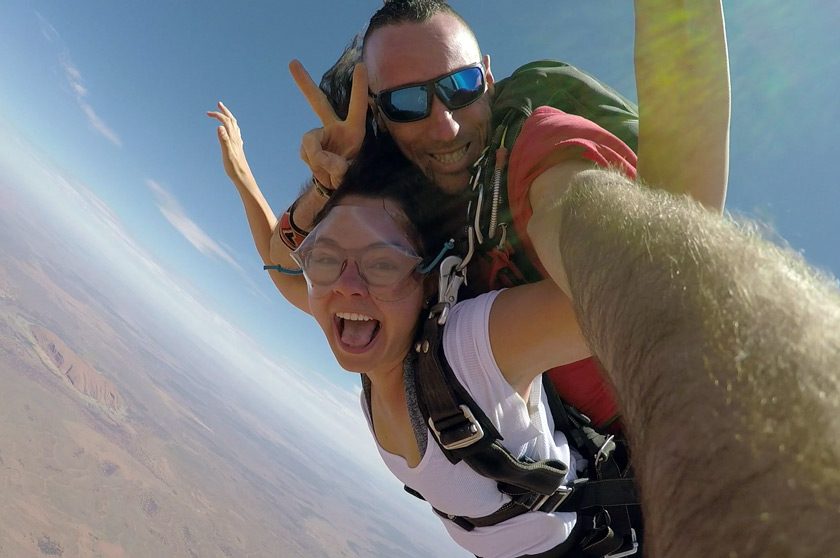 When she returned to NYC in April 2019, Camila started doing tape syncs for Roxane Gay and and Tressie McMillam Cottom for their new podcast, Hear to Slay, billed as "the Black feminist podcast of your dreams." She now works as a producer for this show. In the fall, Camila was tapped by Futuro Media and Netflix to produce a branded podcast named Brown Love, and in spring 2020, Vox tapped Camila to take over production of their comedy show, Good One, a podcast about jokes.
"And that's where I am today!" says Camila, "producing Good One and Hear to Slay, and daydreaming about the time I can take production on the road with me again."
Camila shares that her own podcasting journey has been filled with rejection. "In my first 2.5 years post-Cornell, I applied to over 100 jobs," she says, "nearly all of which I was rejected from."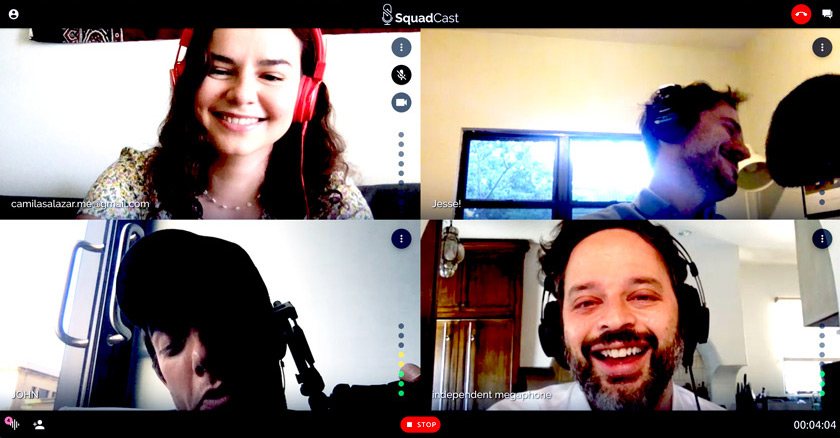 Camila believes that networking is key to success in podcasting, just as it is in many other fields. "I have Cornell to thank for my networking abilities, and for my ability to communicate professionally—without being uptight—via email," she says. "If it weren't for these skills, I'd never have gotten the opportunities I've gotten."
"Succeeding in podcasting means networking like crazy, meeting people where they're at, not being afraid to put a lot of work into trying and failing, and trying and failing, and trying and failing until you ultimately succeed, both in creating stuff for yourself, and in trying to break into the industry," Camila says.
To hear from more Big Red podcasters, tune in to Fresh from the Hill on September 30.