"Frank Rhodes set the standard by which all research university presidents can be measured." — Ezra Cornell '70, Cornell University's life trustee
Read more
Each year, the Cornell University community recognizes the best of the best of its 15,000-plus volunteers, and two of the most prestigious awards are handed out by the Office of Volunteer Programs (OVP)—the Frank H. T. Rhodes Exemplary Alumni Service Award and the Cornell Alumni Association (CAA) Cup, whose recipients were announced during the first-ever Cornell Volunteer Appreciation Week, May 9–13.
The 2016 Rhodes Award recipients are:
Stephen B. Ashley '62, MBA '64
Roderick Gong-Wah Chu MBA '71
Bradley R. Grainger '79 and Mary Maxon Grainger '79, MPS '87
John P. Neafsey '61, MBA '63
Martha J. Sherman '73, MPS '75
Theodore Teng '79
The CAA Cup winner this year is the Big Red Bands Alumni Association (BRBAA).
"Volunteer recognition has been and will always be important," says Loreal Maguire, director of volunteer pipeline and lifelong engagement for OVP.
The Rhodes Award was established in 1994 by the Cornell Alumni Association and named for Frank H. T. Rhodes, the university's ninth president. It recognizes alumni—up to six individuals or couples each year—who have demonstrated extraordinary service to Cornell through long-term involvement with various alumni organizations.
"Cornellians can nominate their peers, so that's an honor," says Catherine Holmes MS '85, associate director for OVP. A committee of seven volunteer leaders along with Jim Mazza '85, the associate vice president of alumni affairs, select the winners from the list of nominees.
"What we see rise to the top is longtime service but also depth and breadth of service," Holmes says. Most Rhodes Award recipients have been deeply involved in a variety of Cornell volunteer endeavors. In September, during a special ceremony at Homecoming, this year's Rhodes Award recipients will be officially honored.
The Cornell Alumni Association introduced the CAA Cup in 2012 to recognize alumni groups and leaders for their outstanding programs. Usually, alumni associations competing for this honor give two-minute PowerPoint or video presentations at the Cornell Alumni Leadership Conference (CALC) in January, and CALC attendees vote on the winner. However, this year CALC was cancelled because of bad weather, so alumni volunteers voted online. OVP oversaw the voting.
"It was overwhelmingly the Big Red Band Alumni Association," says Maguire.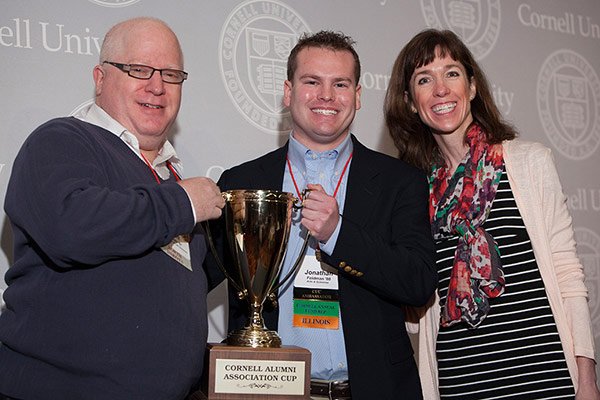 This year's CAA Cup recognizes the special success achieved by the BRBAA in fundraising for Cornell Giving Day in 2015 and in 2016.
"Working with the bands' student leadership, we developed a social media campaign for Giving Day that was able to engage alumni in a unique way, bringing them together to share memories of their times in the bands," says Scott Pesner '87, a board member of the BRBAA. The campaign was a huge success, he says, responsible for more than 25 percent of all gifts made to athletics during Cornell Giving Day 2015.
"We were able to build on this success and saw even more impressive results for Giving Day 2016," says Pesner.
Steve Caraher, associate director of development for the Department of Athletics and Physical Education, says Pesner and the BRBAA used social media in a very effective way to inspire gifts from various alumni athletes.
Caraher adds that Pesner gave a webinar on social media for Cornell Varsity Club volunteer leaders in preparation for Giving Day 2016. "We actually used the success they had in 2015 as the template for our sport-specific alumni associations in 2016," Caraher says.
Lowell Frank '99, MD '03, chair of the BRBAA, says that a close relationship with current students makes this alumni organization unique and effective.
"We are honored to win the CAA Cup," he says. "I think that that achievement—and our success on Giving Day—is directly attributable to the passion and dedication not only of our alumni, but also the student members of the Big Red Marching Band and Big Red Pep Band."