At the end of her first semester in the College of Engineering at Cornell, Angela Loh '23 connected with Alan Hsiao '21, who shares her passion for engineering for impact. In spring 2020, just a few weeks before Cornell transitioned to remote learning in response to the pandemic, Angela and Alan recruited four like-minded students and founded Cornell Nexus. "We are a team of individuals who want to step outside the boundaries of university competitions to make a difference on our planet," Angela says.
Now in its second year, Cornell Nexus has grown to include 24 students from diverse colleges and majors who have come together to design and build an autonomous robot that will remove microplastics from the sand on beaches. The team hopes to have a working land-based prototype built by spring 2023, when they will turn their attention to creating a submersible robot that will remove microplastics from sea water.
Scouring the Mediterranean seafloor west of Italy, the team found accumulations of microplastics in higher amounts than have ever been recorded, even in deep sea trenches.
—"Microplastics have moved into virtually every crevice on Earth," National Geographic, August 7, 2020
Angela explains that these unseen microplastics are everywhere, proliferating, and pose a significant risk to ecosystems and to human and animal health. "There are 50 trillion pieces of microplastics embedded in our sand, our marine life, our oceans, and even in our drinking water," Angela says. Each piece is about the size of a sesame seed. A recent survey of the sea floor in the Mediterranean west of Italy found 1.9 million microplastics in one square meter. "This is just one layer of sand in a single square meter of the Mediterranean," Angela says, adding, "Imagine how much microplastic has accumulated in all of our bodies, our water, and our land."
Existing beach cleaning operations focus on removing the waste we can see, such as plastic water bottles and trash. While gas-powered tractors bury microplastics beneath the top layer of sand, where they remain, the Cornell Nexus robot will be powered with renewable solar energy and focus exclusively on collecting and disposing of microplastic waste. "We believe that Nexus' focus on autonomy and microplastics will revolutionize the technology for waste removal from beaches and bodies of water," Angela says.
Angela checks wired connections between sensors for the Nexus robot.

"At Cornell, I have developed the philosophy that the differences we want to see in the future all start from bits of change we make today." —Angela Loh '23
Planting the seed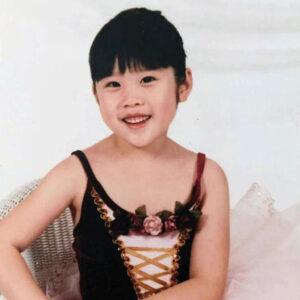 When she was ten years old, Angela and her family moved from Michigan to Shanghai. She was immediately struck by the differences she saw: "When I stepped outside my home, the skies were grey and I could smell the stench of PM2.5 particles hanging in the air. I would walk on certain local streets and see litter everywhere," she says. She noticed that most residents seemed complacent about these issues. "Nobody seemed to care," Angela says.
But Angela did care, very deeply, about environmental sustainability. She recalls making hand-drawn posters promoting recycling and distributing them to her neighbors when she was in elementary school. Angela says that moving to Shanghai—a city she loves very much—was a wake-up call for her. "I realized what big issues plastics, and pollution and waste in general, are on our planet," she says, "and I really wanted to do something about these issues."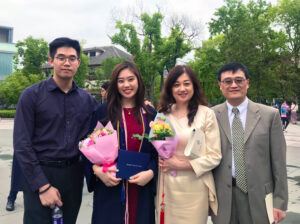 In the summer after graduating from high school, Angela read a biography of Elon Musk and the founding of Tesla, Elon Musk: Tesla, SpaceX, and the Quest for a Fantastic Future. She says this book completely changed her perspective on engineering: "Reading this allowed me to realize the boundless possibilities there are in the field of engineering." She spent the next few months binge reading biographies about inventors, entrepreneurs, and engineers, including Walter Isaacson's Steve Jobs and Leonardo da Vinci and Phil Knight's Shoe Dog. She realized that engineering would be her springboard for creating change in the world.
After perusing the Cornell College of Engineering website, Angela decided to switch her major from environmental science to electrical and computer engineering and computer science. "Reading about the engineering project teams before I arrived at Cornell planted a seed in my brain that maybe one day it wouldn't be impossible to start my own," Angela says.
Getting up to speed
Angela still recalls the lunch she shared with Alan at which Cornell Nexus was born. The two shared a desire to start a team united around the goal of making an impact on environmental challenges. Alan was a junior when Angela started her engineering journey, and he was one of the first people she met at Cornell. She recalls how, after the first time they met, Alan took time to help her to plan her engineering course schedule.
Angela is deeply grateful to Alan for his willingness to mentor her. "When we first started Nexus, I didn't know anything—not even basic knowledge about programming or wiring circuit boards—let alone building an entire vehicle that was going to traverse beaches and charge itself," Angela says. "Alan would spend hours and hours mentoring me and teaching me concepts that I hadn't even heard of. After our weekly team meetings, Alan and I would take the time to reflect on how we could be better leaders and improve our team. He is graduating this semester, and through his kindness, wisdom, and compassion, he has definitely left his impact on me, our Nexus team, the Cornell campus, and our planet," Angela says.
Nexus full team photo in spring 2021

"We have a wonderful team of 24 individuals who are driven, passionate, and believe that we can make a lasting impact on this world." —Angela Loh '23
Angela says that she is proud of her teammates for meeting virtually throughout 2020, and for their commitment to make progress on their robot. Of the original six team members, four have now served in leadership positions: Angela, Alan, Julie Helenek '23, and Jonathan Lee '22. Angela and Julie are currently full team leaders, and Jonathan is the software subteam leader.
With the return to campus in fall 2020, Cornell Nexus began actively recruiting new members with diverse backgrounds and skill sets in electrical, mechanical, and software engineering, and business development. The team utilized various campus listservs, social media channels, and outreach to professors teaching related courses to spread the word about their mission-driven project team. "We have successfully built a diverse team of individuals who are genuinely passionate about our project and the environment," Angela says.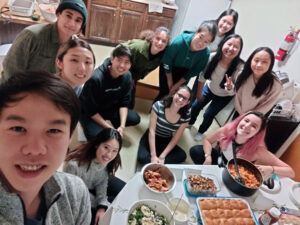 Angela reports that team members keep in close contact, messaging one another on a daily basis. While some messages focus on work, their communication is social, too. "We have a dynamic and tight team," she says, "and we send funny pictures, news, congratulations to team members on successes outside of Nexus, or even birthday messages!"
This fall, the team has transitioned from Zoom to more in-person gatherings. "We still host some quicker meetings on Zoom, but we hold all our work sessions and larger meetings in person, so people can collaborate with one another," Angela says. Nexus also hosts fun social events, and Angela is currently planning a holiday gift exchange and Karaoke night for team members.
Unleashing their creativity, with a little help from alumni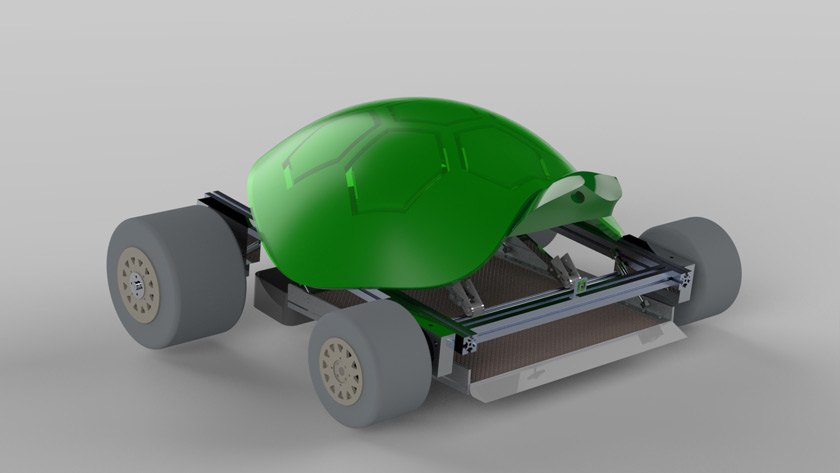 Nexus team members are now building a prototype of a land-based robot that will autonomously collect and filter out microplastics from sand. They are working to create a multi-layered filtering system to catch a range of differently sized microplastics. When 'full,' the robot will return to its docking station to offload the collected plastics and recharge.
"Creating our robot requires knowledge about concepts and implementation mechanisms that are usually taught in graduate-level courses," Angela explains. To succeed, team members have had to take a deep dive, conducting their own in-depth research and seeking out Cornell faculty who can guide their work. "Joseph Skovira PhD '90, our faculty advisor, is helping us refine our product and ensure that we're on the right track for building our prototype," Angela says. "Our other mentor is Greg Whelan '83 of Greywale Advisors. He is part of the McCarthy's Venture Mentoring Network and has been helping us navigate our business outreach and fundraising," she adds.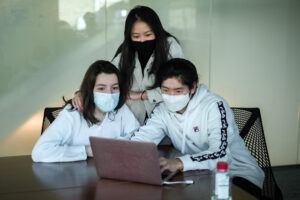 To ensure they have adequate funding to purchase specialized hardware and software components for their robot, Nexus members have been developing relationships with companies that might sponsor the project once they get their prototype working. In spring 2021, Nexus entered and won first prize in the Cornell Engineering Innovation Competition. The Yunni and Maxine Pao Social Innovation Award they received allowed them to buy better wheels, a more robust material for the robot's frame, filtration nets, and more accurate sensors, including: GPS, IMU, motor controllers, camera, sonar, and radio frequency modules. The award was funded by Carolyn Wang '00 and Jeff Pao '00.
Doing the greatest good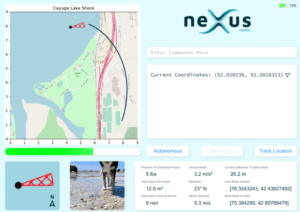 Nexus hopes to test and refine their prototype in the 2022-2023 academic year, using a sand bed to test the robot's moving, digging, and filtering mechanisms. After that, they will place their robot in real-world environments at several different beaches. "We are networking with alumni from the Cornell Nolan School of Hotel Administration," Angela says, "and we plan on reaching out to these individuals to test our robot in beach locations they suggest, once our prototype is fully developed."
Once the land-based robot is completed, the team hopes to launch their robot into the water, where the vast majority of microplastics are. "Our vision is to expand our technology to address the heart of the microplastics problem—which is underwater. Very few commercial robots are tackling this issue, on a macro and micro scale," Angela explains.
Spring 2021 Business Subteam: (L to R) Angela Loh '23, Michelle Prior '24, Kirubeal Wondimu '22

"At Cornell, I feel empowered and inspired; this university has provided me with the opportunities and the autonomy to create and invent." —Angela Loh '23
There are multiple design possibilities for a seafaring robot, including utilizing a water-based recharging and waste removal station, rather than having the robot return to a land base. "These are challenges we plan on addressing in the near future," Angela says.
The Nexus team does not plan to market their robots, but rather to make their design freely available to the public. "This includes all of our software code, mechanical CAD files, electrical circuit board designs, and so forth," she says. "Our goal is to make an impact and do our part to save our planet."