Walking into the Spirit of '31: Passing It Forward ceremony, June 9, at the Carrier Grand Ballroom of Statler Hotel, was like stumbling into a party that had been steadily, lovingly raging for ages.
Members of the Classes of '41, '46, and '51—some of whom had parked their walkers and wheelchairs in a corner of the room—exchanged embraces, dove headlong into conversations about the decades, and, between sips of wine, beamed wordlessly at each other. Weaving among them were leaders of the Class of '11—this year's youngest five-year Reunion class, celebrating its first return to Cornell—who were to receive their own Reunion banner from the Class of '41, this year's oldest Reunion class, celebrating its 75th. Also present was James White '39, PhD '44, retired Cornell professor and the only representative of his class at the ceremony.
Passing It Forward started in 2011 when the Class of '31 celebrated its 80th Reunion and presented the Class of '06 its banner. Coming full circle, a few members from '06 were also in attendance this year.
"I can tell this is a group that's happy to be together because it's impossible to get your attention," said Jim Mazza '88, associate vice president for the Office of Alumni Affairs, smiling at the crowd from the podium.
"The class banner exemplifies something that's so true of the Class of '31," Mazza said. "It's a spirit that places value on returning to the Hill as a class, having an active role as a class, and being a role model for future classes—nobody's done that better than the Class of '31."
To loud applause and countless camera clicks, Henry Heimlich '41, MD '43 presented the Reunion banner to Class of '11 leaders Elizabeth McInnis, Ashley Jeanlus, Jeff Stulmaker, Chris Meijia, and Bri Castellanos.
In spirit
After the banner-passing, Interim President Hunter R. Rawlings III gave a series of improvised shout-outs, starting with a note of thanks to his wife, Elizabeth, for her tremendous support of his return to Cornell.
"For Elizabeth and me the value of coming back is seeing friends—friends on the faculty, friends on the staff, friends even in the student body. Some of them, you know, have been around here for a quite a long time," he said.
Among the individuals Rawlings called out were President Emeritus Frank H. T. Rhodes and wife, Rosa; Vice President Emeritus Susan Murphy '73, PhD '94; and Alice Katz Berglas '66, who helped conceive the idea for the Passing It Forward ceremony with the late William "Bill" Vanneman '31, a legendary class leader and Berglas's close friend and mentor.
"Alice," Rawlings said, "thank you for being Alice."
Rawlings saved his last salute for the late Elizabeth Garrett, 13th president of Cornell, who passed away in March: "Beth's here in spirit. This would have been her first Cornell Reunion. She would have done a great job," he said, asking the audience to keep Garrett in their thoughts throughout the weekend.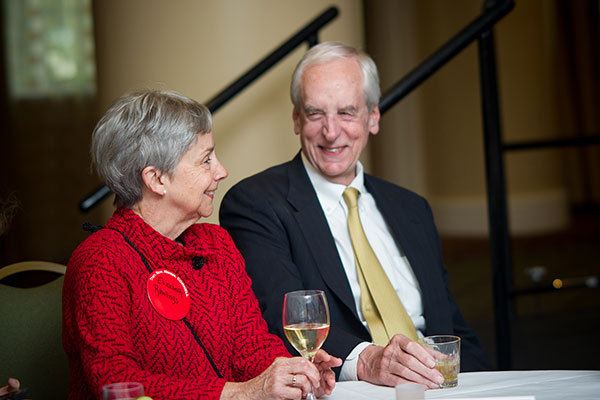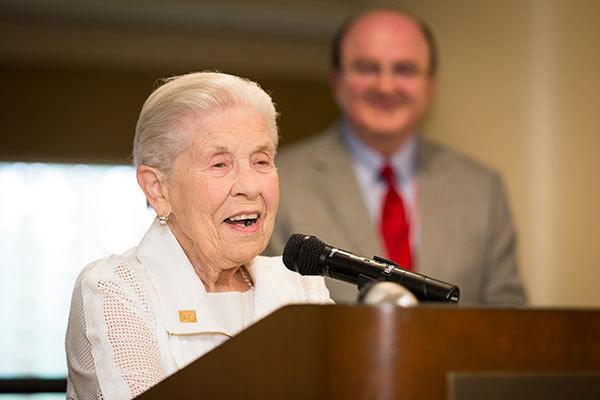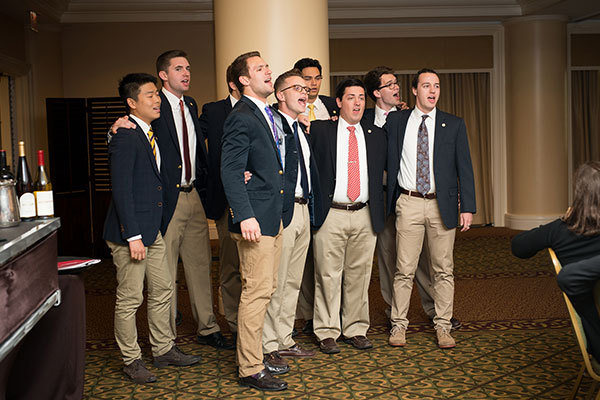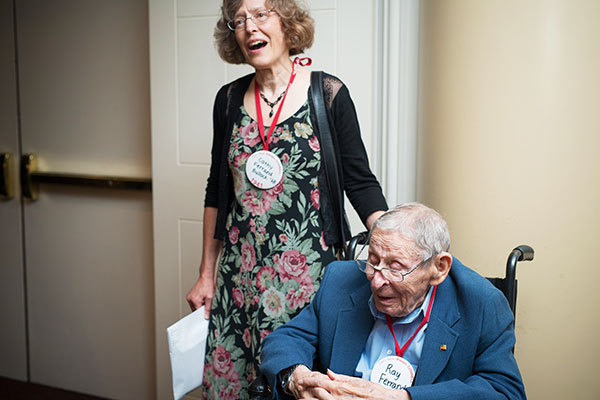 In tribute
Toward the end of the ceremony, Jean Pearson '48 was honored with the William "Bill" Vanneman '31 Outstanding Class Leader Award for her long and exemplary service. The award was created by the Cornell Association of Class Officers (CACO) in 2005, and it was named as a tribute to Vanneman, who was a class leader for over 75 years.
"My class has been a rowdy bunch, 77 percent of whom were vets," Pearson said when she accepted the award from CACO president Simon Krieger '76, MBA '77, who described the recognition as long overdue. (The awarding was originally planned for January, at the Cornell Alumni Leadership Conference in Philadelphia, Pennsylvania, but it was canceled due to a snowstorm.)
In her speech, Pearson highlighted her class's proudest gifts to Cornell. She also recounted the best—and the worst—moments of her class Reunions, making special mention of the 60th, which honored war veterans. Sharing her recognition, Pearson also praised her colleague and collaborator Martha Mapes '48.
"She can give more good ideas in five minutes than the rest of us can do in a month," Pearson said. "As far as I'm concerned, we are co-everything. She is a bright light."
Pearson's speech included many moments of levity, as when she lost her train of thought. "Where was I going with that? God, I am old. Whatever," she said, laughing.
She also brought home a serious message about the quickly vanishing generation ofCornellian war veterans: "I want you to understand that when the vets came back, they were two to five years older than the women, and we went to school with men."
"That made for a different experience for the women," she said. "We were very privileged. They never mentioned the war, but it was always there."
In song
To conclude the evening, Mazza introduced the Cornell Hangovers. "It's not a Cornell party without a couple of Cornell songs," he said.
And just as the alma mater rang out, those who could stand rose from their chairs. Everyone sang.
See more pictures from the ceremony.
Learn more about the Vanneman Award and Jean Pearson.