In early August, Cornell alumni got together for a series of events on Martha's Vineyard sponsored by Diversity Alumni Programs and Cornell Mosaic, joining a rich summer tradition of intellectual and cultural offerings on the island.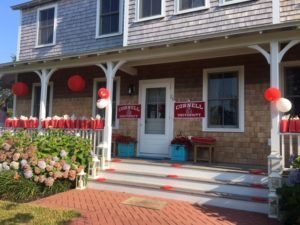 A reception hosted by Dr. Deborah Arrindell '79 at her home on August 6 started the week. More than 115 alumni, family members, and friends registered for five events, which offered a range of fun, socializing, and intellectual engagement. The enthusiasm throughout the week was palpable, said Renee Alexander '74, associate dean of students.
"I was impressed with how many Cornell alums frequent the island. It is truly a paradise," said Michael Huyghue '84, who owns a home on the island and has been vacationing there with his family for years; the summer atmosphere on Martha's Vineyard, he said, fosters learning and connection. "I think Cornell has a unique opportunity to make this an important summer happening," he said.
On August 7, Huyghue, a sports lawyer and businessman and author of Behind the Line of Scrimmage: Inside the Front Office of the NFL, shared his insights into building a successful organization and challenges particular to people of color and women. Later that day, Penny M. Von Eschen, the L. Sanford and Jo Mills Reis Professor of Humanities, gave a talk, based on a book of photographs, about African American musicians the US State Department sent in the 1960s as ambassadors to countries in Africa, Europe, and the Middle East.
On August 8, Von Eschen joined Kevin K. Gaines, W.E.B. Du Bois Professor of Africana Studies and History, at the historic Union Chapel to give a presentation, "Music, Politics, and Social Movements in the United States," which was open to the public.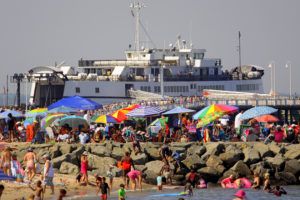 The last Cornell event, a beach party at the Inkwell on August 9, brought Cornellians of multiple generations together, said Mark Tatum '91, deputy commissioner and chief operating officer of the National Basketball Association.
"It's a wonderful place, particularly for the African American community, which has been gathering here for decades," said Tatum, whose wife, Lisa Skeete Tatum '89, came to the beach, as well; they arrived on Martha's Vineyard a few days earlier than they usually do to join the Cornell celebration. "Having these activities this week really brought the mass of Cornellians together."
Martha's Vineyard has a history of welcoming African American families and those of diverse backgrounds, said Calicia Mullings '98, associate director of Diversity Programs. "Some families have been going there since the 1940s," she said. "It is common to have multiple generations vacationing together."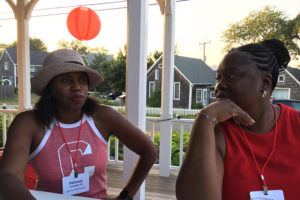 In late summer, the island is a hotbed of cultural activity. The first full week in August also saw the Martha's Vineyard African American Film Festival, a meeting of the Executive Leadership Council, the Martha's Vineyard Comedy Fest, and other events. The Obamas and Spike Lee were on-island.
Jeff Berg '79 and his wife, Debra Paget, made a day trip to Martha's Vineyard from their home on Cape Cod, which has a Cornell Club and annual summer events. "This is a wonderful first-year program," he said. "I hope it can grow."
Based on the positive reactions and suggestions from alumni and friends who attended, said Matt Carcella, director of Diversity Alumni Programs, there will be future summer programs on Martha's Vineyard, incorporating work being done at Cornell into the fun and social summer setting.
"It provides a unique kind of vacation: relaxing and learning," he said. "We will see how we can make it bigger and better for next year."