Todd Baker '86, a managing director at Bank of America Merrill Lynch (BAML), returns to campus several times a year to represent his firm to students interested in working there. He tells students the truth that is readily apparent as soon as he starts to talk: He loves his job, his company, and Cornell.
"Recruiting is a totally natural thing for me," he said. And he and other enthusiastic Cornell alumni at BAML are effective: During the 2015–16 school year, 23 Cornell students accepted job offers from the firm's global banking and markets division, more than from any other university where BAML recruits.
"As an alumnus, I'm happy to help," said Baker, who was mentored early in his own career by a fellow Cornellian, Rich Booth '82, and others. "Cornell did so much for me. I feel the need to pass it on."
As a way of giving back to the university, many alumni working for large and small companies mentor, encourage, and recruit Cornell students, and in return find that the university provides a pool of highly and uniquely qualified candidates. Students benefit, and so do the engaged alumni.
Giving back through the Cornell network
Alumni are playing an increasingly important role in students' careers, from getting that first job out of college to finding advanced positions, said Rebecca Sparrow MA '86, executive director of Cornell Career Services (CCS).
"I can't possibly overstate how valuable alumni involvement is in student recruitment," she said. "Networking in general in the last 10 years has become a critical way to advance one's career."
Job prospects for Cornell graduates, hurt by the Great Recession, have been "steadily improving" in recent years, she said, especially in high tech, computer science, and financial services industries. CCS, part of Cornell's Division of Student and Campus Life, offers activities and programs to help students discover their strengths, gain experience, and develop career path strategies. The CCS website encourages alumni to get involved in guiding and building students' careers, such as sharing career advice and encouragement as a mentor, spending an afternoon on campus as a professional-in-residence, hiring Cornell students and graduates, or volunteering in other ways.
In 2015, 827 different employers hired Cornell students, said Sparrow. Most hired just one student, but some of the largest hired up to 65 Cornell students. Each fall, CCS coordinates the University Career Fair, which started this year on August 30. On-campus interviews began August 31 and were in full swing by September.
Developing interdisciplinary skills gives Cornellians entering the workforce a facet of experience and personality that differentiates them in many ways, starting from their very first encounters with prospective employers.
—T.P. Enders '90, MEng '96, managing director at Goldman Sachs
Industries that recruit on campus on a large scale—through an annual process overseen and coordinated by CCS—are financial services, consulting, big data, high tech, engineering, and consumer products, said Sparrow. For firms in these industries, the process of hiring Cornell students is intense and competitive, with the recruiting companies as eager to hire Cornell students as the students are to get jobs.
"Having been through the Cornell engineering program myself, I know what kind of rigor, hard work, and creativity goes into a degree," said Tricia Grippo '13, a product research engineer for the Gillette brand of Procter & Gamble (P&G). "Those are the minds we look to hire into the company."
At the career fair in September, she had conversations with "a lot of highly driven and bright prospective P&G candidates."
Jennifer Davis '99, managing director at investment bank Goldman Sachs, said there's a strong culture in her company of wanting to hire more Cornellians. In addition to her job as a banker, she serves as co-head for recruiting efforts at Cornell, coming to Ithaca one or two times a year to meet with individuals and groups—such as athletes or students belonging to specific colleges—about the financial services industry and her firm.
"Many students might not know they're interested in a career in finance," said Davis. She was one of those students herself. She didn't feel that her pre-med major in the College of Agriculture and Life Sciences (CALS) was right for her, but she enjoyed her business and math classes. She tried investment banking for a summer and really liked it, going on to a Harvard MBA before joining Goldman Sachs.
Alumni employed in smaller companies and not-for-profits connect with students seeking careers outside the big industries, as well. For example, Jim Miner '13 serves as a recruitment manager for Teach for America (TFA), a national corps of recent college graduates committed to teaching in under-resourced public school districts. Miner said that his Cornell education along with his two years with TFA had such an impact on his career path that he is now dedicated to recruiting at Cornell. He attended the career fair in September, conversing with students ranging from those in their first year to those pursuing graduate studies.
"The best conversations all centered around students who were clearly driven by their passions," he said. "This was something over which we could connect, and these same passions are what have driven our most impactful teachers and classroom leaders in TFA."
Kevin Zheng '12, a manager of operations and product innovation at Wayfair—a home goods e-commerce company founded by two Cornell alumni—enjoyed meeting students.
"It's great to be able to share my work experiences with current students," he said. Alumni in specialized lines of work also visit their home departments to lecture, meet students, and share information about employment opportunities. The history of art department in the College of Arts and Sciences partnered with the Herbert F. Johnson Museum of Art to hold a museum-career workshop in September featuring four alumni established in the field.
"It's great for the students to see alumni who have graduated and gone on," said Cathy Klimaszewski, associate director for programs and the Ames Curator of Education at the Johnson Museum.
When Matthew West '98 was a student in CALS, he loved his science-heavy communication major, but it took some exploration on his own before he found a fit in health-care communications and advertising. Early in his career, the Cornell network came through for him when he joined the pharmaceutical advertising agency McCann Regan Campbell Ward, a division of McCann Health. "A Cornell alumnus hired me," he said.
Since the early days of his career, West has come back to campus multiple times a year to teach, connect with, and recruit science-focused Cornell students, especially those from the Department of Communication. Now, recruiting is his main business: He is the talent acquisitions director for the pharmaceutical and health-care advertising and marketing division of Advice Personnel, a recruiting firm in New York City. He has forged many mentoring relationships with Cornell students and young alumni, something he encourages other alumni to do.
"Two or three Cornellians call me a week," he said. "I always make time."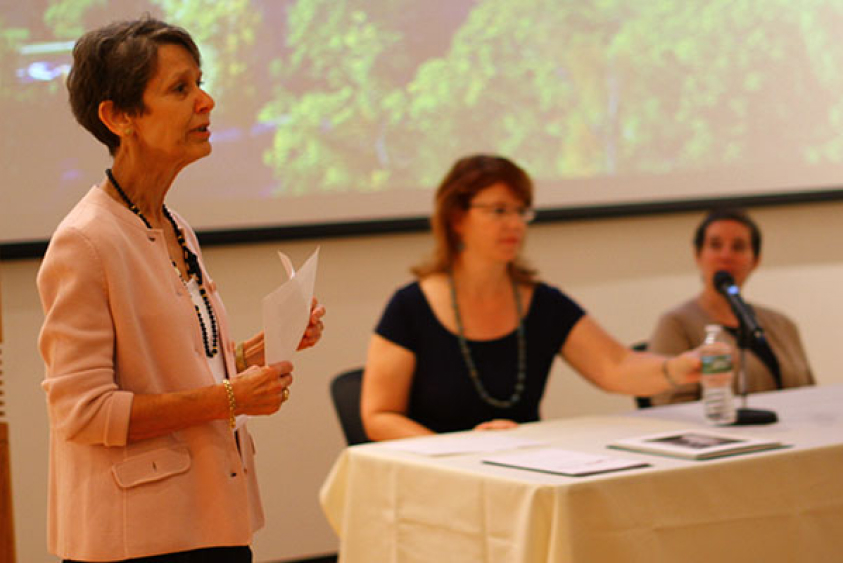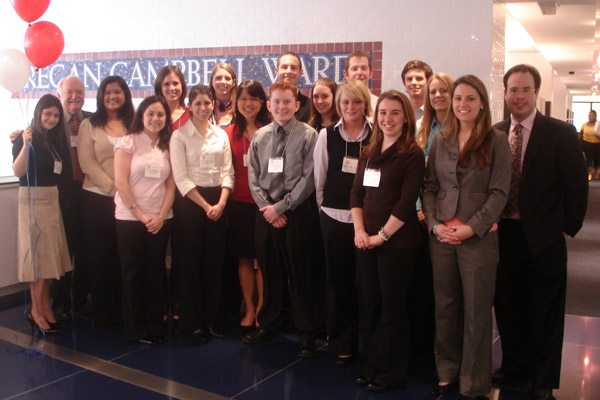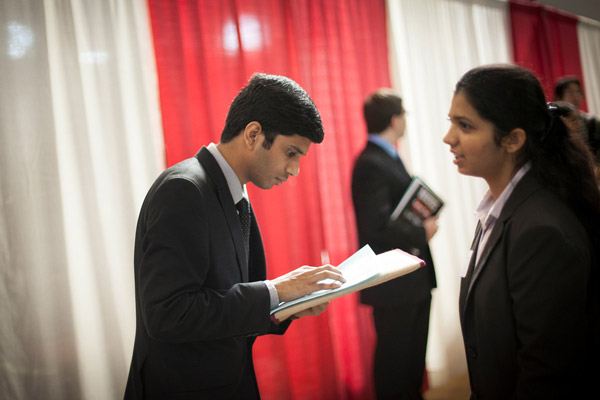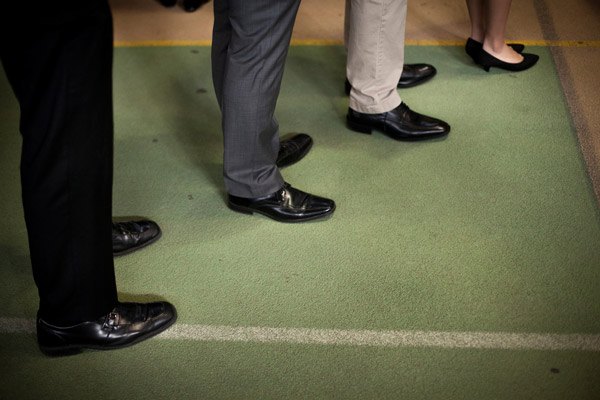 Reaching Cornell-educated candidates
As a recruiting professional, West finds Cornell students and recent graduates to be broadly educated but also humble, passionate, smart, and unassuming. "These characteristics make for wonderful hires, hires that last in multiple industries," he said.
T. P. Enders '90, MEng '96, managing director at Goldman Sachs, said that Cornell graduates are known in investment management circles for having a well-rounded knowledge base that leads to success.
"The university encourages students to develop interdisciplinary skills," he said. "It gives Cornellians entering the workforce a facet of experience and personality that differentiates them in many ways, starting from their very first encounters with prospective employers."
Cornellians recruit at their alma mater because it's a reliable source for great candidates, said Laura Denbow, senior director of volunteer programs in the Division of Alumni Affairs and Development. Cornell students are high-quality, to begin with, and learning more every day. But recruiting is also fun, she said: "It allows alumni to reconnect."
Reconnecting is a major incentive for alumni mentors and recruiters.
Davis, who volunteers on the Undergraduate Program Advisory Council at the Charles H. Dyson School of Applied Economics and Management, enjoys being on campus, remembering the small-college feel of Dyson and the huge university campus with all its vast resources.
"I think Cornell is such a special place," she said. "We like to remember."
West encourages alumni to go back to Cornell to encourage and recruit students and to forge mentoring relationships.
"The rewards are so invaluable to everyone," he said.