Elizabeth Bauman '73 remembers the intense, shocking news coverage of Hurricane Katrina, the devastating storm that hit parts of Louisiana, Mississippi, and Florida in August 2005.
The hurricane and subsequent flooding—including in the city of New Orleans, where dozens of surge protection levees were breached—caused more than 1,800 deaths; an unfolding crisis of stranded residents and evacuees; and widespread, massive environmental and property damage.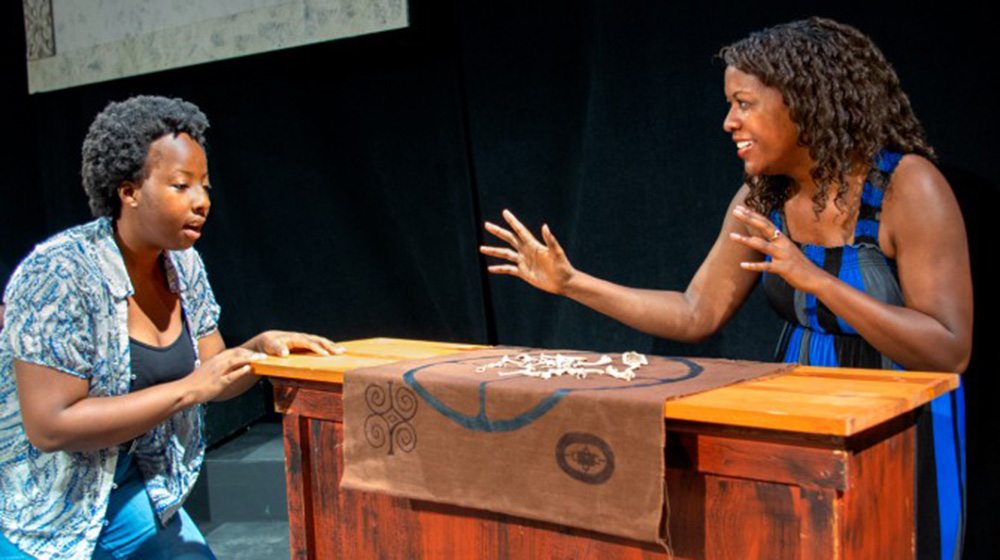 Katrina's aftermath included the impact of a much-criticized emergency response, as rescue efforts and management of displaced residents unfolded on live TV and other media, as evacuees waited for days in ever-worsening conditions for supplies and relief.
"I was so moved by what happened—in a horrifying way," said Bauman, of Ithaca, a former journalist who also worked in communications and media at Cornell for three decades. "I really thought it was, in many ways, a media story—like how the Vietnam War was a media story … we watched [on TV] these people suffering, and there was nothing we could do."
Bauman, who grew up a fan of Broadway musicals, saw dramatic potential in the Katrina story, and began thinking about writing a musical. The creative endeavor ultimately took years.
"Katrina, A New Musical" opened Aug. 2 at the Kitchen Theatre in Ithaca, produced by Walking on Water Productions (WoW).  Performances are Aug. 1-4 and 9-11 at the Kitchen Theatre, 417 W. State St., Ithaca. Thursday, Friday and Saturday performances start at 7:30 p.m. and Sunday matinees are at 3 p.m.
"Katrina" stars Cynthia Henderson and Bernie Sheredy, both members of Actors' Equity Association, and features Adara Alston '99, Andrew Hudson-Sabens, Grace Traore '20 and Jaime Warburton. Tickets are general admission and are available at WoW's site, at the Kitchen Theatre's site or box office before the shows, or by calling 607-272-0570. The performances are part of the Kitchen Theatre Company's Kitchen Sink Series, which is supported in part by CFCU.
Bauman wrote "Katrina" with Ithaca-based musician and composer David Frumkin. It is directed and choreographed by Priscilla Hummel, founder and producing artistic director of WoW. It includes a 13-member cast, a six-piece band, and 25 original musical numbers.
"Katrina" tells the story of fictional characters living in New Orleans who struggle with the storm and subsequent flooding, a crisis made worse by the government's slow response and the racial and economic divides in that city.
Serendipitous partnerships
Bauman had never written a musical, but knew it would be the most affecting way to tell the human story of Hurricane Katrina. "I love regular theater, but to me, when you add music, the emotional component comes out and it really moves people," she said. "It would just touch people's hearts and souls—and anger them, too."
She said she held off for a few years, thinking, "Someone's going to write this, it's right there waiting. I could see all the scenes in my head. I could see the people. And I could sort of hear the music, but I can't write music."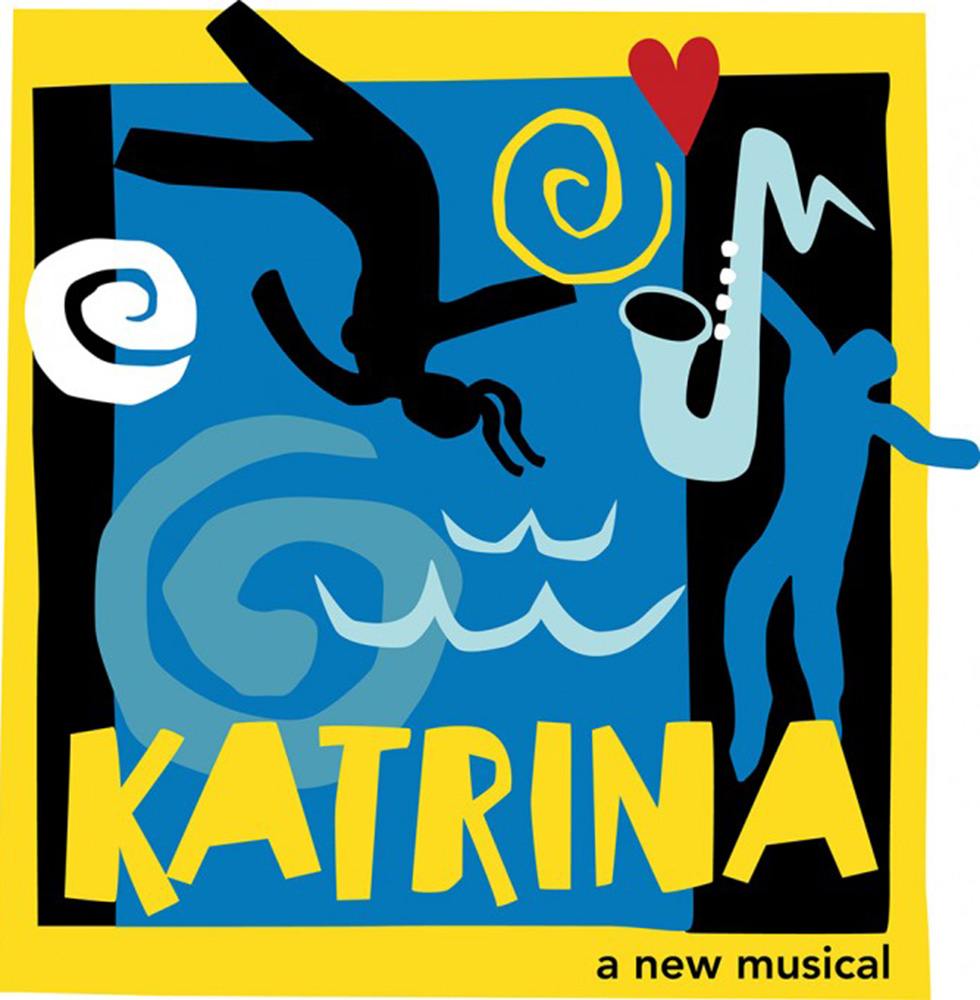 Bauman began outlining the plot and coming up with a few of the major characters. She sketched out the major scenes and moments in the story, and wrote early lyrics for at least a half dozen songs. But then she put the project, captured in a little notebook, away for a while, realizing that to proceed, she would need to connect with a musician—"the right musician," she said.
A few years later, she met Frumkin at a local music store. She talked Frumkin into giving her violin lessons; it soon became apparent that he, too, loved classic Broadway musicals and had similar tastes in music. She eventually told him about her Katrina project.
"I brought in the lyrics, he took them home, and he said, 'This is interesting; this is intriguing,'" Bauman said. "He agreed to write one song. He said, 'Let me try one and see how it goes.'"
Frumkin, who leads the local acoustic jazz and blues band Blue Skies, had once written original songs for kids while working as a substitute music teacher at an Ithaca elementary school, but otherwise had never written a musical.
"He took a while, and then he came in and played on his guitar and sang this amazing song," Bauman recalled—and a partnership was born. "He wrote a lot of his own lyrics, he added to my lyrics; it was very collaborative. And he'd come up with these gorgeous melodies. To hear something that had been in my head turn into a beautiful, melodic, memorable song, my heart soared."
Bauman already had a clear subject, characters and direction in the song lyrics, Frumkin said: "I had to basically take those words and make them fit a nice rhythm, set them to a melody, and then pick harmonies behind them.
"My background for years has been playing standards, a lot of which come from shows," he said. "And I love to improvise. New Orleans is the birthplace of jazz. So it fits with my background that I want songs that are sing-able, that are memorable, and that have an easy-to-understand, direct message, but also in the playing of them, there is a little bit of an improvisational element."
The songwriting process took about a year; in the meantime, Bauman turned to her journalistic roots, taking on additional research. She read books about how to write a Broadway show, traveled to New Orleans to talk with former evacuees and residents about their firsthand experiences, and further developed the script and characters with Frumkin.
Just as Bauman and Frumkin felt they were ready to share their creation more widely, Bauman's close friend Susan Lang '72, also a retired Cornell colleague, had been taking a cardio dance class in Ithaca from Hummel and mentioned the Katrina musical.
Hummel had worked for a small theater company in Chicago for several years, producing mainstage seasons and working with local playwrights, before returning to her native Ithaca. WoW, which she founded in 2017, had previously staged two well-known musicals, "Godspell" and "The Fantasticks," and she had not yet selected a show for 2019.
Lang connected Hummel with Bauman and Frumkin; Hummel was immediately inspired by "Katrina" and agreed to produce the show after first taking it through a workshop series to develop it further.
Adding perspective
"It had so much potential," Hummel said. "I knew that there had never been a musical written about Hurricane Katrina, and WoW's mission is to produce works that are entertaining but also elevating, and works that challenge us to engage the heart, the mind and the spirit, and I felt this could be the kind of piece that would do that."
Hummel reached out to the Ithaca theater community, and early this year conducted a series of 10 workshops that pulled in actors, singers, directors, designers, musicians, writers, theater professors, and critics for readings and feedback.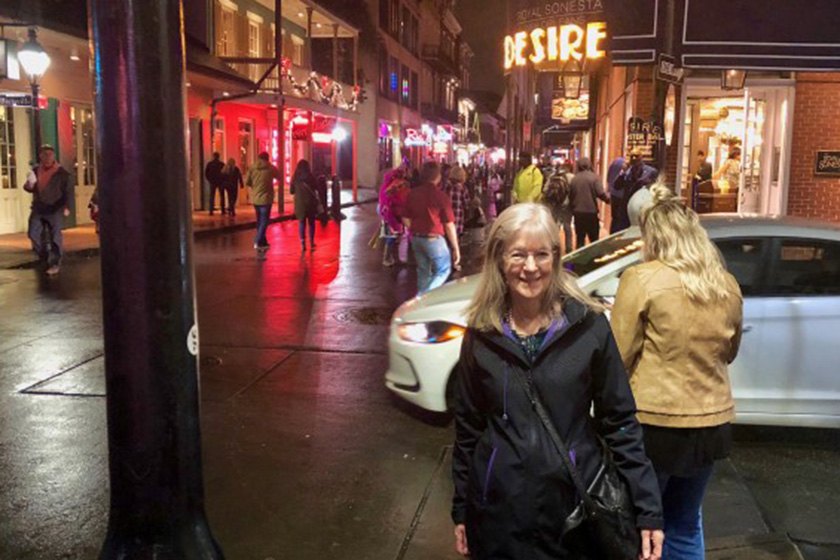 "Different people came to each one and they gave us input," Bauman said. "We did read-throughs, intense character studies, story arcs. So I was rewriting like crazy."
Bauman and Frumkin noted that one of their longstanding concerns was that this musical about Katrina's effect on the people of New Orleans required a diverse cast and voices—and that the production's authors are both white and grew up on Long Island.
Hummel solicited additional feedback from the black community and from New Orleans natives and people with direct connections to the city. Hummel asked an Ithaca College theater arts student from New Orleans to work with them as a dialect coach. Musician London McDaniel was added to the cast as a street musician and band member and wrote several original pieces he will perform.
Leaning on her communications experience and the central role that the media played in the Hurricane Katrina story, Bauman also integrated actual news reports–from local New Orleans coverage, CNN, actual weather reports, quotes from President George W. Bush–into the script.
Hummel said "Katrina" is "going to challenge our thinking as we think through the way the government handled the situation; captivate our hearts as we're experiencing these events through the eyes of these individual, fictional characters [during the real] events that took place; and touch our spirit as we watch how a community that has essentially been destroyed is coming back together, because of their love for their home, to rebuild."
"We're hoping," Bauman said, "that the buzz will be great, we'll get good reviews—and some other small- to medium-sized theater companies would want to take it on."
Her dream? To ultimately stage the musical in New Orleans.
This story was written by Joe Wilensky, and also appears in the Cornell Chronicle.