David Kimelberg JD '98 comes from a family of artists. His mother, Pamela Ahrens, was an art teacher, and his brother Michael was an artist.
The family are active members of the Seneca Nation. His mom launched the Head Start program in the Seneca territories, located roughly 40 miles southwest of Buffalo, New York, and his great uncle served four terms as president of the Seneca Nation during the 1950s and 1960s.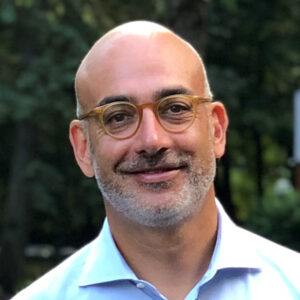 Dave moved back to the Seneca territories with his family about 15 years ago, after living and working in Boston and New York City. As a corporate attorney with a background in finance, his goal in returning home was to spearhead an economic development program for the nation. He founded Seneca Holdings—an investment company which was deliberately diversified from the gaming industry—to generate income for the benefit of the Seneca people.
Profits from Seneca Holdings have allowed the nation to install fiber optic internet in one of its communities of about 3,000 residents, including many school-age children. "About five years ago, we pulled fiber through the whole territory. So, now, everyone has high-speed Internet—which has been a real gamechanger," Dave says.
The many, very talented, contemporary Indigenous artists just weren't getting the recognition they deserve. We wanted to change that.
—David Kimelberg JD '98
Dave has always been a fan and collector of contemporary Indigenous art, and he and his brother had dreamed of someday opening a gallery to showcase this art. When they came up with the idea, only a handful of contemporary Indigenous artists had achieved national recognition and there was no gallery specifically featuring their work.
"The many, very talented, contemporary Indigenous artists just weren't getting the recognition they deserved. We wanted to change that," he observes.
In December 2018, Michael passed away unexpectedly from an undiagnosed congenital heart defect. His passing reminded Dave that life is short and motivated him to bring their art gallery dream to fruition.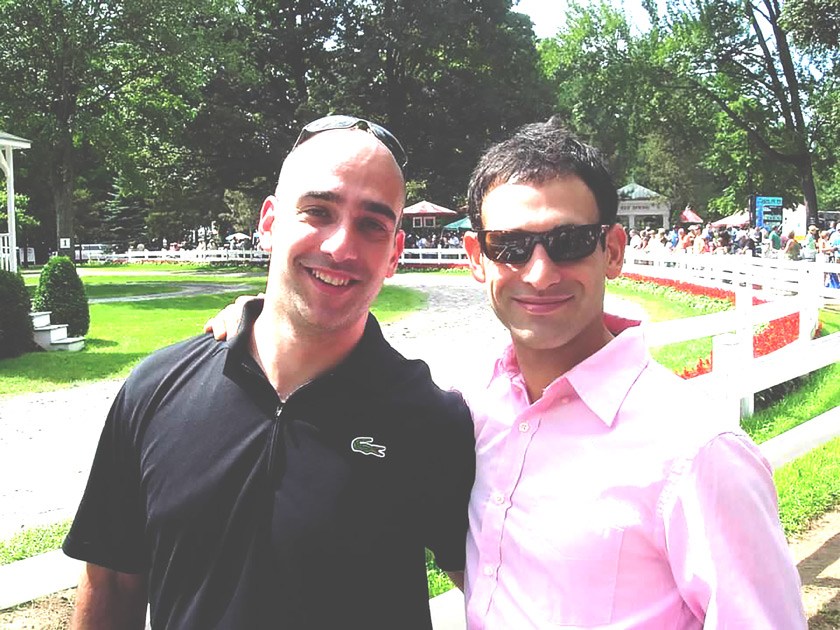 "We had always talked about it, and then he passed away," Dave says. "I thought, you know what, if we're not going do it now, we're never going do it."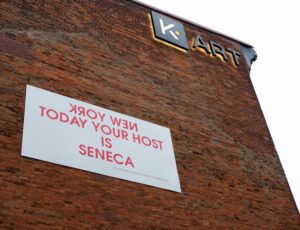 In 2019, Dave bought a three-story brownstone in downtown Buffalo and began developing it into an art gallery. A year later, K Art was formally launched, featuring the work of contemporary Indigenous artists from New York and across the continental U.S., Alaska, Canada, Mexico, and even Australia.
He recalls the naysayers—and there were many—who warned him that the gallery would never succeed. They told Dave that there were powerful "gatekeepers" in the art world, who would make access to artists and collectors difficult.
Dave says that his experience has defied these dire predictions. For K Art's first show, his team reached out to ten of the top contemporary Indigenous artists to see if they would like to be included.
"They were all incredibly excited to be working with us and ready to give us their work. That's pretty unheard of, right?" he says. "And, on the collector side, we have major museums that really want to work with us and that have made it easy for us. What I've learned is that the art world actually can be a pretty cool place."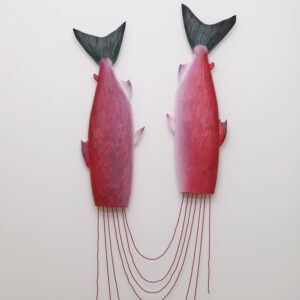 Dave explains that he and his team connect with artists via word of mouth and by searching keywords in social media channels like Instagram. He and his gallery manager have found four young artists in this way: When they see artwork they like on Instagram, they contact the artist to arrange a Zoom call and discuss which works they would like to include in a show.
"We'll say, 'Hey, we'd like to work with you more closely.' We'll give them a lot of advice, and we'll support them, too. For some really young artists, we'll pay them a certain amount every month to live on. It's not a huge amount, but it allows them to focus on their art," Dave explains.
Dave doesn't expect to make a living from the art gallery. He says the success he's had in his legal and business career is allowing him to fulfill his dream of bringing contemporary Indigenous art into the mainstream.
"To me, success is changing other people's lives for the better—helping to give them opportunities where they can learn and thrive. I view my job as giving our artists all of the resources they need to grow and be successful. And, for them, success is having their work seen, talked about, and, ultimately, acquired."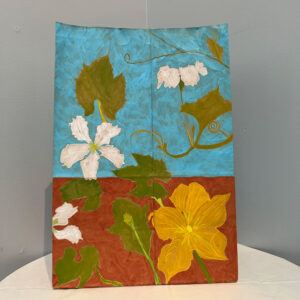 By these measures, K Art has been a resounding success. The gallery presented a booth at Art Basel Miami Beach in early December 2022—one of the most important art fairs in the U.S. "It was a real honor to be there, and the reception has been fantastic," Dave says. "Ours was named a top-ten booth by ARTnews for Art Basel Miami Beach, and also for our booth at The Armory Show in New York City earlier in the year."
And the gallery is changing people's lives. A few of the artists have catapulted into the national spotlight, and their works have been acquired by MoMA and other important institutions.
He shares the story of one man who worked other jobs his whole life to support himself as an artist: "His star has really risen over the past two years. His work is now in the National Gallery of Art in Washington, D.C., and collectors are clamoring for his work. This is his full-time job now, and he has different problems, like, 'How do I manage all this money coming in?'"
"And," Dave says, "this is what makes me really happy."