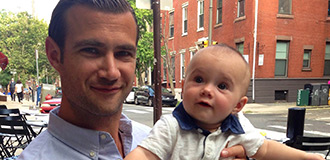 First thing every morning, Nick Bayer '00 bonds with his nine-month-old son, Luke, at a Saxby's café down the block from the Philadelphia high-rise he shares with his wife, Hally Blair Bayer '02."He sits on my lap and watches the buses," says Nick.
It's a routine that blurs the line between life and work; Nick is the founder and CEO of Saxby's Coffee, a growing chain with more than 40 cafés in seven states.
"I try to spend as much time in cafés as possible," says Nick, whose typical day includes several meetings—all held in Saxby's locations.
Nick wasn't much of a café-goer in college, but the energetic vibe of the bars—the Clubhouse and the Palms—where he'd hang out with baseball teammates and fraternity brothers inspired him to get into the coffee shop business.
This year, he is an entrepreneur-in-residence at Cornell's School of Hotel Administration.