For Reunion 2018, Cornell alumni came back to campus in various ways. Some arrived by bus from New York City, and some came by plane from overseas. Some caught shared rides from other states, and some attended virtually, thanks to live stream.
One young alumnus came back by bicycle—and he came a very long way.
George Epstein '15 pedaled 10,893 miles, following the perimeter of the continental United States, over the course of 11 months to arrive, as planned, in time to don his tuxedo (which he'd shipped ahead) and sing in the Cornell University Glee Club concert.
"Reunion is a great thing to come back to," he said, minutes before taking the Bailey Hall stage with other Glee Club alumni. "It was always my plan."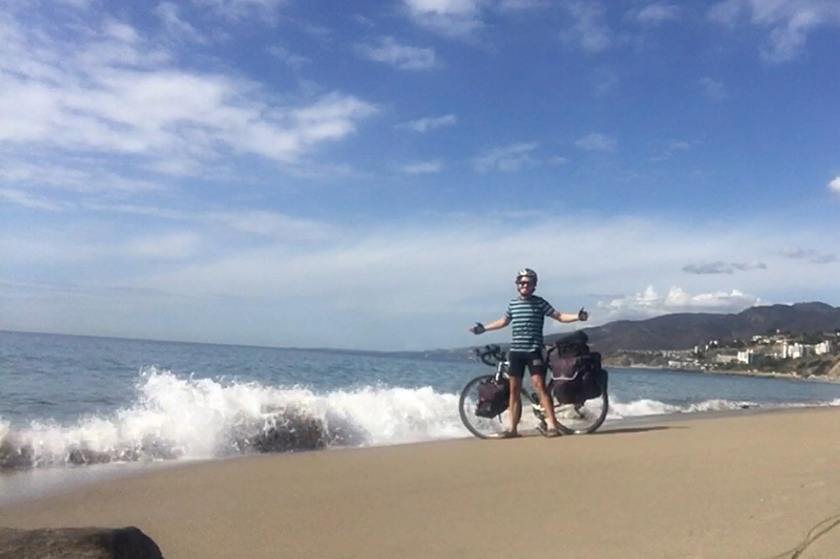 Epstein began his ride in August 2017, rolling down the driveway of his parents' home in Dobbs Ferry, New York. His ride raised money to support the ALS Therapy Development Institute in its efforts to find new treatments and a cure for amyotrophic lateral sclerosis (ALS).
Cornell, he said, gave him the opportunity to develop diverse interests in addition to his physics major, including his lifelong love of cycling and music. A member of a musical family, Epstein sang with the Glee Club all four years at Cornell. During his long ride, he found lodging along the way with Glee Club and Chorus alumni, as well as with other Cornellians.
"Seeing the Cornell community in that way, it's not just coming back to Reunion and singing together," he said. "They open their homes to you. They bring you into their families."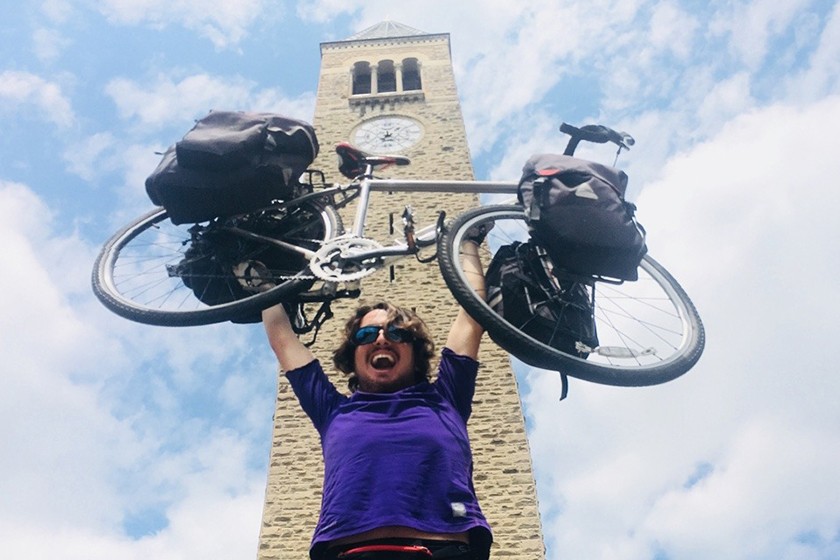 At the end of Reunion, Epstein and his bike spiced up Cornelliana Night, a highlight event of the weekend. He wheeled his bicycle, which had carried him more than 10,000 miles, across the stage of Bailey Hall to chants of "George! George! George!"
"Here's a true Cornellian, right?" said Jim Mazza '88, associate vice president of alumni affairs and development, said from the stage. "He's adventurous. He's resourceful. He's generous."