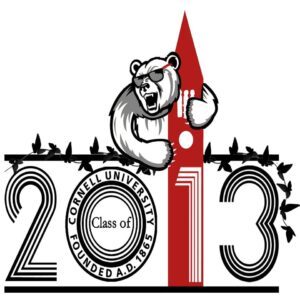 Class of 2013
Housing and Headquarters Location
Class headquarters and housing will be on North Campus at High Rise #5.
Address: High Rise 5, 225 Jessup Rd, Ithaca, NY 14850
Arrival and parking
When arriving for Reunion, guests may drop off passengers and luggage in front of the Robert Purcell Community Center (RPCC) and High Rise 5 by turning onto Northcross Road off of Jessup Road and making a left into the RPCC parking lot. Once passengers and luggage have been delivered, the driver should exit the drop off area via Jessup Road and park in A Lot.
The main parking lot on North Campus is the A-Lot behind the Townhouse Community buildings. Available parking will also be located in the Hasbrouck apartment complex (121 Pleasant Grove Road, Ithaca, NY 14850) across from North Campus. Additional parking locations and details are listed HERE. A Reunion shuttle van will be available to transport guests from A-Lot and Hasbrouck parking lots to HQ locations on Thursday between noon and 8 p.m. After Thursday, on-request ride assistance is available by contacting 607-255-7085.
Questions?
For Reunion-related questions, contact your Reunion co-chairs:
Kamillah Knight '13
973-787-4610
kk594@cornell.edu
Kelly Wilcox '13
860-280-8653
kew75@cornell.edu
Stay connected
Visit the Class of 2013 website
Follow the Class of 2013 Facebook
Follow the Class of 2013 Instagram
Class of 2013 schedule
More information coming soon!